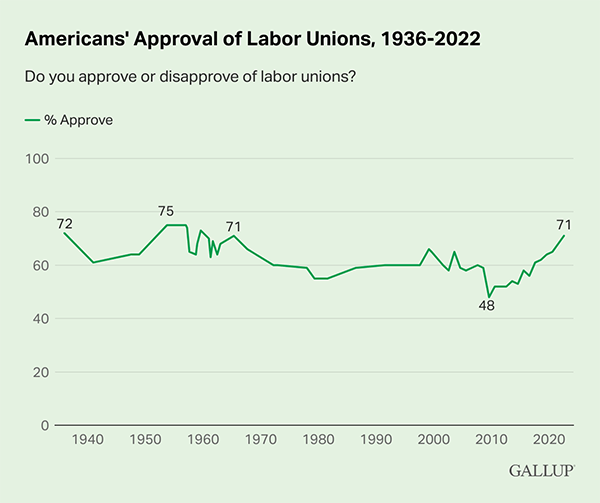 As workers continue to organize throughout the country – from cultural institutions to Starbucks and Amazon – Americans' approval of labor unions continues to rise.
According to the latest annual Gallup poll on union favorability, released today, 71% of Americans approve of labor unions, the highest rate in nearly 60 years.
The number of people who view unions favorably is on a clear upward trend: up from 68% last year, 64% before the pandemic and 52% a decade ago. This year's rate ties with that of 1965.
As approval of labor unions rises, workers are springing into action. The period from October 2021 through June of this year saw a nearly 60% increase in petitions filed to the National Labor Relations Board (NLRB) by workers seeking to unionize.
"The overwhelming majority of Americans understands what unions bring to the table: higher wages, safer working conditions, lifesaving benefits, job security, and dignity and respect," AFSCME President Lee Saunders said in a press release today. "This is what comes from having a protected voice on the job. And they know that working people – the front-line heroes who brought our economy back from the brink – deserve a seat at the table."
What's more, among workers who belong to a union, more than two out of three say their union membership is important to them, with 40% answering that their membership is "extremely important" to them, the poll found.
The reasons workers give for being part of a union include better pay and benefits; employee representation and employee rights; job security; better pension and retirement benefits; and more, according to Gallup.
That's the union difference.