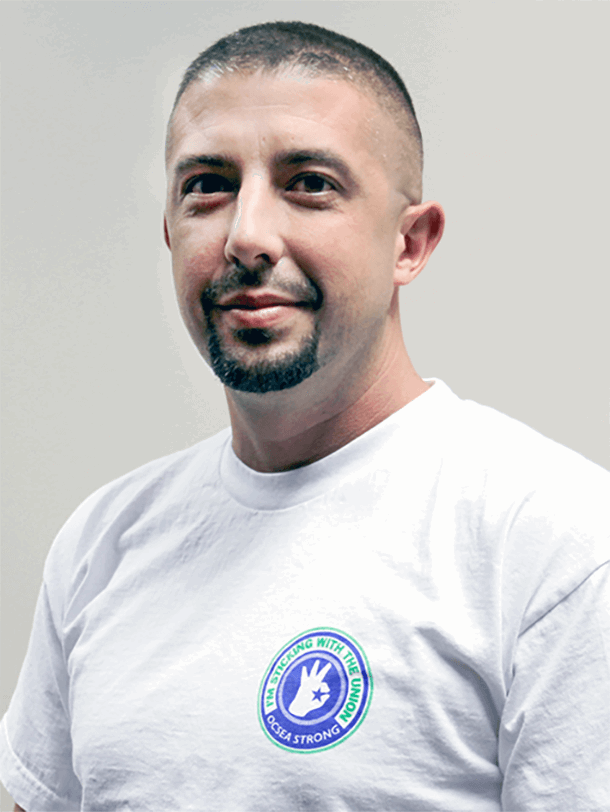 As a correctional officer at the Lebanon Correctional Institution, about 30 miles from Cincinnati, Phil Morris knows that safety and security means having someone to watch your back. That's the way it is with the members of his union, Ohio Civil Service Employees Association/AFSCME Local 11.
They are stronger because they're united, watching out for one another.
"We're what actually protects our membership from wrongdoing or harm from management," explained Morris, president of OCSEA Chapter 8310, which represents approximately 300 employees at Lebanon, a Warren County facility operated by the Ohio Department of Rehabilitation and Correction.
So it should be no surprise that when Morris participated in an AFSCME Strong blitz in early April – having one-on-one conversations with other officers in his unit – all but the six new hires were already members of his union. The new hires all signed up.
"We've maintained 100 percent membership at my institution," Morris said. "Fair share is really not an option. We've never had anyone who said, 'I want to be fair share.'"
Two officers who happened to be fair share (and who worked a different shift than Morris), became members during the blitz.
Having one-on-one conversations with his fellow union members was an exercise in building unit cohesion. "They were committed," he explained, "but I wanted to get back to the roots of what we are, and we are the grass roots. A lot of time that gets forgotten. Sometimes, we have to get back to the basics and let folks know we are here – that we do have our fingers on the pulse, and we do care. We want to know what's up with you."
What's up with the officers in his unit has a lot to do with being safe in an inherently dangerous environment. A security staff of approximately 350 is responsible for maintaining the peace in an institution that houses 2,478 inmates.
Morris has worked there nearly 12 years – his first union-represented job. He works the first shift, lasting from 6 a.m. to 2 p.m. With much gang activity to watch out for, safety is always on his mind. "At the end of the day, we want to be able to walk out the same way we walked in – on both feet," Morris said. "We are surrounded by folks who have nothing but time."
During the two-day AFSCME Strong blitz, Morris and other members reached out to more than 200 members to conduct "assessments" – holding one-on-one conversations about issues that concerned them. Not unexpectedly, many of those conversations involved the state's efforts to sell state-run correctional facilities to for-profit companies.
"Gov. Kasich had already put five prisons up for sale in his first term as governor of Ohio," Morris said. One was later sold.
"They've already privatized our food service with Aramark," he added. Inmate medical care is also heavily outsourced. "What they say is that it's to save money, but in our eyes it's to cut corners. You get what you pay for."
The conversations also turned to more positive subjects, particularly education benefits provided through OCSEA. Partnering with a community college, the union is able to provide a program that provides free college education to eligible members who are accepted into the school. Vision and dental insurance are other benefits that he discovered "a lot of them either didn't know about, or forgot."
The AFSCME Strong blitz "is a good grass-roots campaign," he said. "It was good to get out there to talk to the folks, one-on-one, and not being made to feel they were being pressed for information. It was good to revisit some of the things we don't talk about enough. We wanted to make sure their voices were heard."
He said the members also appreciated the interest he showed by asking about their concerns. "They enjoyed that casual, if not intimate, experience of being able to talk without being pressed or put on the record," he said. "Candid would be the better term."
As a correctional officer, Morris will never quit caring for the women and men who work with him, making sure they're safe. Nor will the two-term chapter president ever quit on his union, whose members depend on one another to build strength in the workplace.
"One common thread they all agree on is having a voice in the workplace," he said. "They know that we are there, and we're there to help."