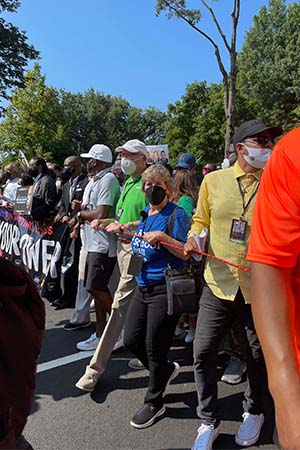 AFSCME President Lee Saunders joined thousands of people in Washington, D.C., and cities across the country on Saturday to urge swift action by Congress to protect our voting rights.
Speaking at the "March On For Washington And Voting Rights," Saunders framed the issue as central to our democracy.
"The very foundations of our democracy are under siege," he said. "In state after state, powerful forces have made a ruthless, immoral calculation. They know that when more people participate in our elections, they lose. They know that their agenda doesn't have enough public support to win fair and square. So, they're rigging the political system, doing everything they can to silence the voices and suppress the votes of Black and brown people in particular."
Held on the 58th anniversary of the March on Washington, at which Dr. Martin Luther King Jr. delivered his historic "I Have a Dream" speech, the event brought together thousands of people in our nation's capital, and there were similar events in Atlanta, Miami, Phoenix and elsewhere.
"All the issues we care about depend on this struggle to protect and expand access to the ballot box," Saunders said at the D.C. event. "If you care about strengthening unions and empowering working people, this is your fight. If you care about affordable health care, this is your fight. If you care about wealth inequality or retirement security, this is your fight. If you care about racial justice, this is your fight."
The U.S. Senate must follow the House's lead and approve the John R. Lewis Voting Rights Advancement Act as well as the For the People Act, both of which would combat the disenfranchisement of communities of color.
This year has seen an unprecedented wave of attacks by Republican-led states on the right to vote. No fewer than 18 states have enacted 30 laws that will make it harder for eligible voters to cast their ballots in future elections. Many of these laws are motivated by false and often racist allegations of voter fraud, and they are driven by national Republican groups that are spending millions of dollars to disenfranchise voters of color.
"Today, we march. And tomorrow, we protect our most precious, fundamental right of citizenship: the right to choose our own leaders, the right of self-government, the right to vote in free and fair elections," Saunders said. "Today, we march. Tomorrow, we raise hell!"
AFSCME is also a member of the coalition Fighting for Our Vote, which this month held rallies in Washington and three cities in the Midwest to demand action to protect our right to vote. The coalition is made up of labor, civil rights and social justice organizations.