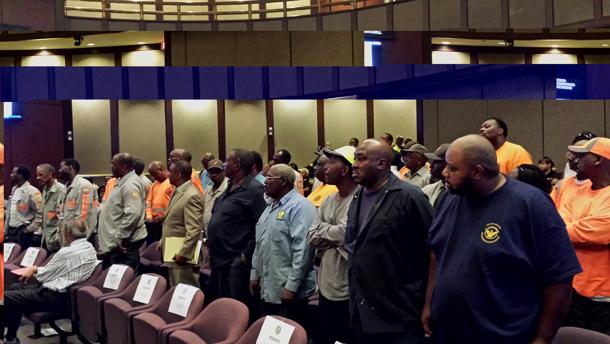 ATLANTA – The City Council voted overwhelmingly July 21 to approve a 3.5 percent pay increase for approximately 3,000 Atlanta city workers in public works, corrections, and parks and recreation, among other city services.
AFSCME Local 1644 members were active in City Council speak-ins, and direct conversations with Atlanta Mayor Kasim Reed, reminding them of the vital services that city employees provide.
"We make the city of Atlanta work, ensuring that the city is a clean, safe and enjoyable place to work and live in," Local 1644 member Tracy Thornhill told the Council. "We deserve a pay raise that lets us know that the city and our community recognize our work."
Mayor Reed spoke up in favor of the pay raise. "The city of Atlanta is in the strongest financial position in more than a decade," he said. "Because of this financial stability, our hard-working employees will take home a paycheck that reflects their contributions and accomplishments."
The pay raise is retroactive to July 1, and members should receive the increase in their August paychecks. The last significant pay raise occurred several years ago.