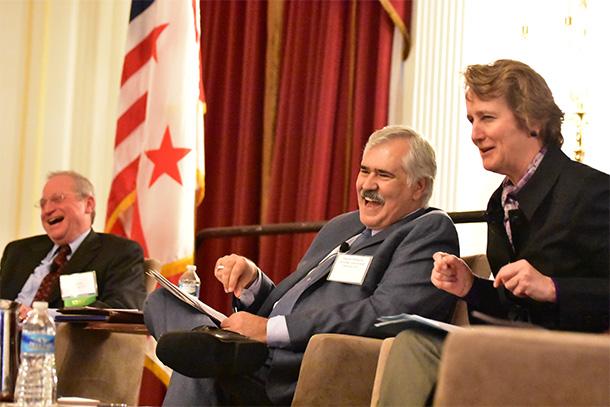 For the first time ever, lawyers representing both AFSCME and the Service Employees International Union (SEIU) came together to strategize about how best to meet challenges threatening workers' rights in the months and years ahead.
The AFSCME/SEIU Lawyers Conference, a three-day event attended by hundreds of lawyers from both the national level and in the field, demonstrated how the two unions are working to share ideas and best practices to deal with issues confronting all public employees, such as Friedrichs v. California Teachers Association, scheduled for argument next month before the U.S. Supreme Court. This case was brought to the high court by corporate-backed forces intent on undermining workers' rights.
AFSCME General Counsel Bill Lurye and SEIU General Counsel Judy Scott kicked off the program by moderating a panel discussion with Steve Fantauzzo, chief of staff to AFSCME Pres. Lee Saunders, and SEIU's International Pres., Mary Kay Henry. Both spoke about how the unions are cooperating to better protect the workers we already represent and also grow the unions. Fantauzzo stated, "It was great to come together with SEIU and to see a room packed with lawyers who were fully engaged, and eager to learn."
Participants representing national unions and affiliates nationwide and from Puerto Rico heard from the General Counsels of NEA, AFT and the AFL-CIO, as well as U.S. Department of Labor Solicitor Patricia Smith, NLRB General Counsel Richard Griffin and Dr. David Weil, Administrator of the Department of Labor's Wage and Hour Division.
Conference attendees also heard from sister unions in Canada and Europe about issues confronting public-sector workers and how their unions are responding. Speakers included Scott Chamberlain, Director of Labour Relations and General Counsel of the Association of Canadian Financial Officers and Jesus Gallego, International Coordinator, Public Services Federation of the General Workers' Union of Spain (FSP–UGT).
The conference was a "huge success," Lurye said. "I am confident that lawyers representing our affiliates came away from it with new ideas and a fresh energy to tackle the real challenges that lie ahead. Union lawyers from around the country also got a chance to get to know each other better and to build relationships that will serve to strengthen both unions and all our members."