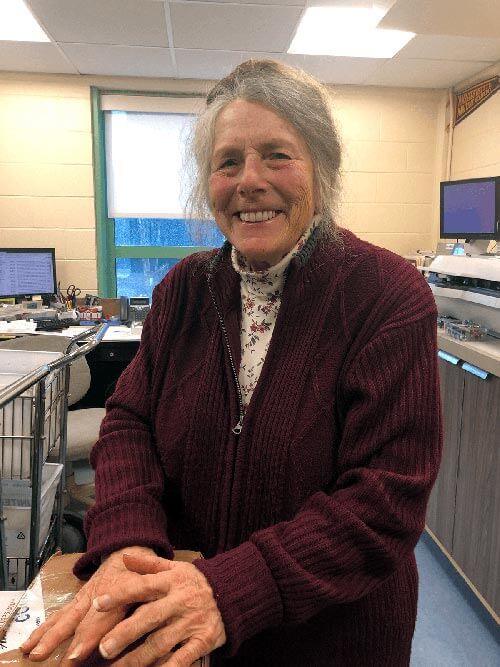 Forty-eight years. That's how long Barbara Jacobs has been giving her all to the Massachusetts Maritime Academy, a small maritime college located in Buzzards Bay in Cape Cod.
With the exception of a short hospitalization more than 20 years ago, in 1997, Jacobs has shown up to work every day focused solely on helping the students, or cadets, as they're called at the academy. Her title, Clerk V of the Mail Distribution Center, doesn't begin to describe the extent of what Jacobs does at the academy, nor her commitment to it.
"She's the epitome of the word, 'worker,'" says her friend and fellow AFSCME Local 1067 (Council 93) member Maria Cullen, who nominated Jacobs for a Never Quit Service Award. "She has a work ethic that's a rarity today. She's energized and happy every single day at work."
Jacobs is a one-person hub of the student mail room. She chats with cadets while ensuring all their mail and parcels are handled correctly, often providing – at her own expense – the tape, staples or stamps that cadets occasionally forget. For many of the cadets, some of whom come from as far away as Panama and China, Jacobs has, for the past half century, been their cheerleader and friend.
"They love her. She knows almost all of the students," says Cullen, who works in the International Programs Office. "You hear them thanking her all the time."