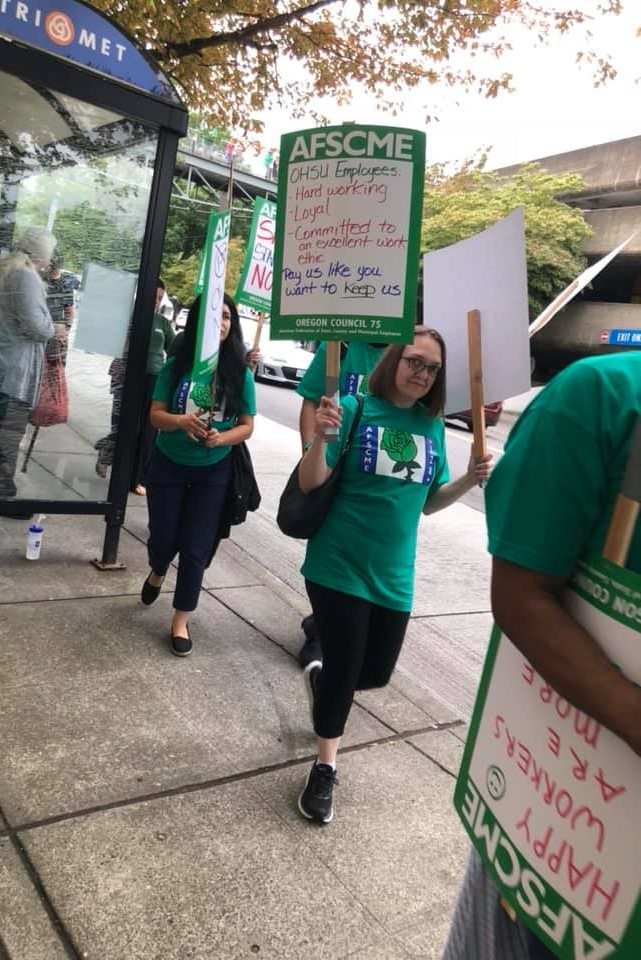 Employees at the Oregon Health and Science University (OHSU) have voted overwhelmingly in favor of a three-year contract with the university.
Following an informational picket that sent a strong message that the 7,000 members of AFSCME Local 328 (Council 75) are united and deserve to be treated with respect, OHSU management quickly returned to the bargaining table. A record number of Local 328 members turned out for this month's contract ratification vote. Nearly 99% voted to approve the deal.
The contract, which will expire in June 2021, includes a 9.25% wage increase over three years; a lump-sum payment of $1,000 to each employee; an additional day of vacation for employees hired after Sept. 11, 1998; lower-cost health insurance through a preferred provider organization (PPO); weekend differential pay for clinical and preceptor positions; a "hardship fund" to help employees struggling with housing, transportation, food or educational expenses.
"This is really a historic contract for us – we've never had a pay increase like the one we fought for in this contract," said Matt Hilton, a call center operator at OHSU and president of Local 328. "Also, we are really excited that we were able to defend against an unfair paid time-off system. Not only did we make financial gains, but we were able to significantly grow our union at OHSU."
Stacy Chamberlain, executive director of Council 75, said the willingness of members to escalate the fight was the key to securing a favorable contract.
"Through this contract fight, our members invigorated their local, building upon their collective power and refocusing the conversation on ways to improve patient care and outcomes," she said. "This new contract was achieved through our members' engagement and solidarity. Our members showed OHSU that they had had enough and would take collective action to get a fair contract."