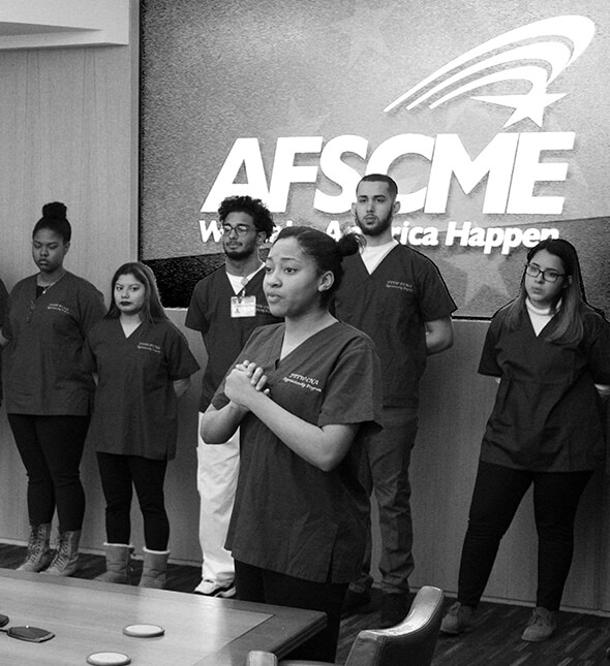 Black History Month is a time to reflect on the contributions African-Americans have made to the strength and vitality of our nation. As the first African-American president of AFSCME, not a day goes by when I don't think about the heroes on whose shoulders I stand.
There are the civil rights and labor rights leaders whose names are familiar: icons like Dr. Martin Luther King Jr., A. Philip Randolph and Bayard Rustin. There are others who helped make AFSCME what it is today: former Secretary Treasurer Bill Lucy and former International Vice President Lillian Roberts. And there are some who aren't individual household names, but whose belief in service and sacrifice improved the lives of those around them.
The Pullman car porter who worked while his passengers slept. The Memphis sanitation workers who went on strike in 1968 for a living wage and dignified working conditions. My father, a bus driver in Cleveland and union member, who made sure his passengers got where they were going safely, and on time.
Progress is made by people who do their jobs with pride, day in and day out; folks who set an example for the rest of us by how they conduct themselves at work, at home, and in their community.
Black History isn't just about celebrating the past; it's about investing in the future. We need to cultivate a new generation of leaders, like the group of young people who visited AFSCME headquarters this past week.
Recent high school graduates, many from immigrant families, these apprentices with AFSCME 1199J in New Jersey are staking a claim on the future as they train for jobs as physical therapy aides and certified nursing assistants. They spoke to us not just about the job skills they've learned in the program, but their newfound confidence, independence and empowerment. Their energy and optimism is inspiring.
They will write the next chapter in black history.
Lee Saunders is the President of the American Federation of State, County and Municipal Employees (AFSCME), AFL-CIO