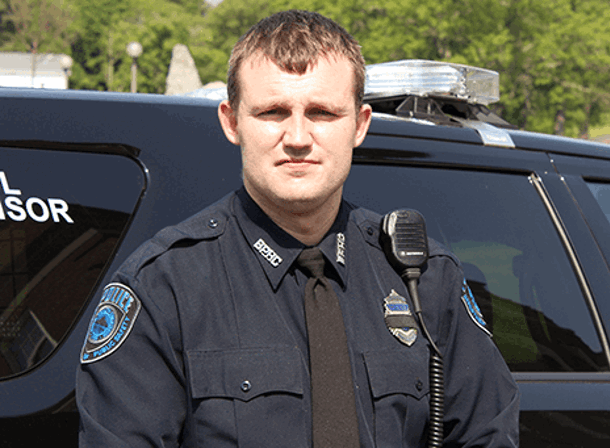 BOSTON – When AFSCME member Jonathan Cahill heard gunshots and watched a young man fall to the ground next to his car, he could have headed for safe cover. Instead, he jumped into action.
A police officer for the Boston Public Health Commission (BPHC) and a member of Local 787 (Council 93), Cahill was off-duty that day – May 18 – and had just left a nearby grocery store. He was sitting in traffic when gunfire broke out.
"We were sitting in the car, and then you could hear the gunshots echoing," Cahill said. "People started running and yelling. I heard eight or nine gunshots over 10 seconds, and this kid was running and then he fell. He got shot as he was running away."
Cahill has more experience than most people in situations like this. The decorated Marine served our country with distinction in Afghanistan as a member of the First Battalion, 25th Marine Infantry. During a tour that lasted more than six months, he was injured in combat and received a Purple Heart for his sacrifice. Eight months later, Cahill joined the Boston Public Health Commission (BPHC) police force.
But on this particular night, Cahill wasn't backed by a battalion. He did, however, have a tourniquet in the car that he had received two weeks earlier from fellow Police Officer Frank Nogueira during a Boston Police Academy training session. Grabbing it, he ran to the 19-year-old victim lying on the sidewalk as a crowd gathered around, "just staring at him," Cahill recalled.
Pulling off the man's shoe and pant leg, Cahill found that the bullet had penetrated the victim's femoral artery, putting him in danger of bleeding to death. But because of the pain, the man didn't want Cahill to put the tourniquet on his swelling leg, caused by internal bleeding, as he later learned from emergency medical technicians (EMTs).
Knowing he had to act fast, Cahill asked the man's friends to hold him down as he applied the tourniquet, explaining to them that "this will save his leg or save his life," he said. "The crowd asked if I was a doctor. I told them I was a Marine."
It worked. The bleeding stopped. Cahill kept the young man calm by talking to him, letting him know that Boston Police and an ambulance would soon be there. When EMTs and other officers arrived, he told them he had applied the tourniquet. The man was taken to a hospital for further care.
"Being overseas fighting for the country makes you realize that you're doing it for a reason," Cahill said. "So that the things happening overseas don't happen here."
But when it did, he was prepared.
BPHC Sgt. Tony DeMarco, also a Local 787 Executive Board member, lauded his union brother for his bravery and quick action. "In today's world, you could flag 100 cars to get a jump, and no one would stop," he said. "Officer Cahill got out of the car and went to help.
"That's what AFSCME does, we help people in a time of need," DeMarco added. "You're there to protect people. He helped someone in their time of need. That kid could have bled out."