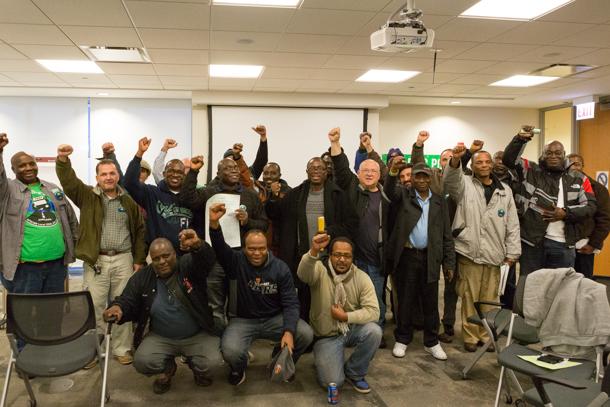 CHICAGO – After decades of being mistreated by the City of Chicago and feeling powerless, several Chicago cab drivers last summer approached AFSCME Council 31 and began organizing their fellow professional cab drivers.
A little over a year later, Cab Drivers United/AFSCME Local 2500 received its official charter and local number.
"We still have a lot of work to do to gain the respect we deserve, but in a short time we've seen the progress cab drivers can make when we join together to speak with one powerful voice," said Nnamdi Uwazie, a veteran cab driver and founding member of the local union.
"It's been really empowering to be a part of this union," said John Hilt, a fellow veteran cab driver and founding member. "Working with Council 31, we built a successful Driver Advocate program that pairs trained driver advocates with a Local 2500 member who needs assistance fighting a ticket or issue holding up their chauffeur license renewal.
"Drivers were so used to going to the administrative court and settling regardless of guilt or evidence against them, but now we have the power to fight unfair ticketing practices," Hilt added. "We're finding great success in getting tickets dismissed or settled to a lesser charge when drivers use the Driver Advocate program" added Hilt.
After driving a cab for more than 20 years, Cheryl Miller has seen the ups and downs, but is hopeful for the future.
"Up until now, Chicago cab drivers truly never had a voice in the decisions that affect our daily lives," she said. "But that all changed when we started coming together with Cab Drivers United/AFSCME. Our unity and our numbers give us the strength to continue to fight and make improvements for Chicago's 12,000 professional cab drivers."