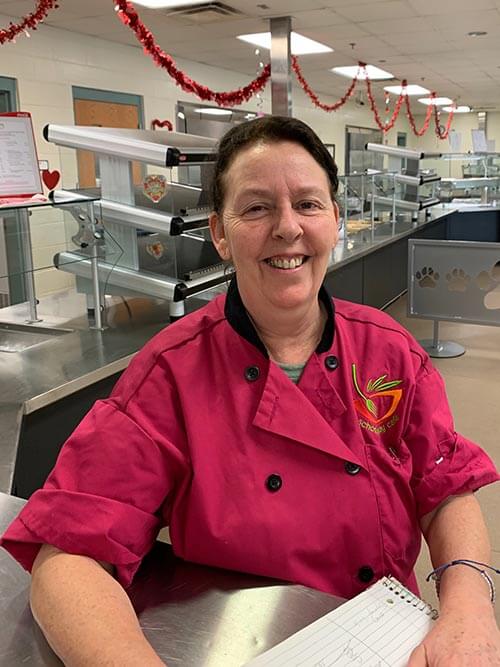 Norma Motard is an assistant cafeteria worker at DeLand High School in the city of the same name, located roughly halfway between Orlando and Daytona Beach, Florida.
She works at the School Way Café, a partially federally funded program that provides nourishing meals to students. A cashier at the café, she's also responsible for handing out juices and fruits to students.
When the students come in for breakfast and comment on how tired they are, she empathizes with them, reminding them, "I had to get up this morning and go to school too, you know."
When she notices one of them wearing a Harry Potter clothing item, she strikes up a brief conversation, because she, too, has read all the Harry Potter books ("I couldn't believe I read a 900-page book!" she jokes).
She has a smartphone but only checks the weather on it, she says, because now that she's "59 and everything" she's taken up sewing, and she sometimes gives students little gifts she made for them.
In other words, Motard keeps it real, and in doing so she connects with the students in a unique way. So says Kami French, the school's cafeteria manager, who nominated Motard for AFSCME's Never Quit Service Award. Motard, a member of Local 850 (AFSCME Florida), is a winner of that award, which our union gives to public service workers who go above and beyond the call of duty.
"We have a great staff here and they all work really hard," says French of the eight assistant cafeteria workers who each play a role in feeding 1,000 students every day. "I should nominate them all for the award. But Norma has been here for a long time. She knows all the kids by name. She's wonderful with them, she takes an extra second to notice something about them and talk to them about what they like. She really goes above and beyond for our students because this is her family, they're all her kids. You really feel that from her."
Motard has two adult children of her own in their 20s. She began this job two decades ago when her girls were little.
"It was the perfect mom job, 8 to 2," she says. "I could drop off the kids at school and come here. It was a perfect fit."
As her girls grew up, they went to DeLand High School, which made it even easier.
But even now, it still feels like the perfect job, and she's proud to say she's the "first one in, last one out."
It's a job she plans to keep doing until she's ready to retire.