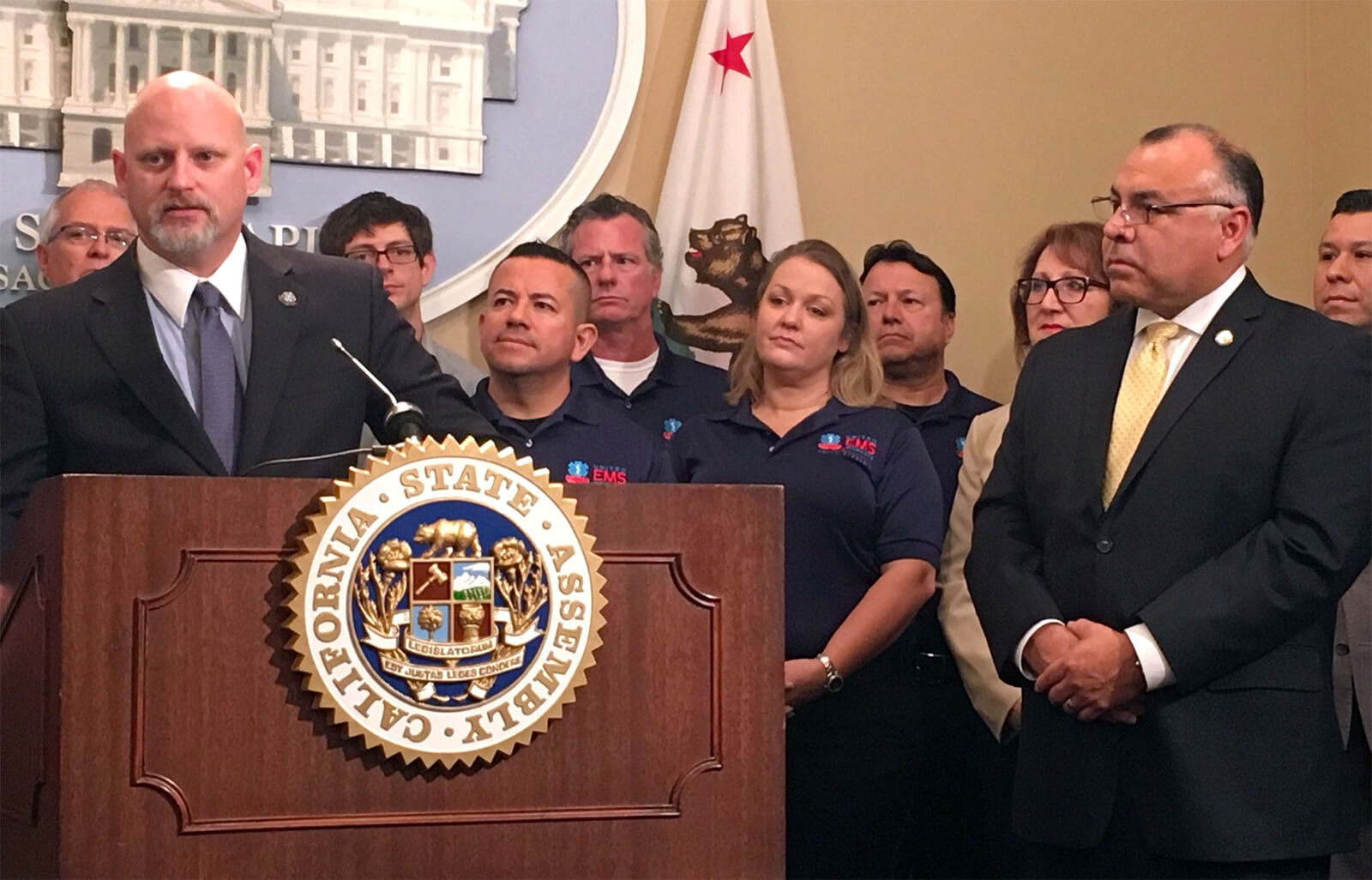 A bill making its way through the California State Legislature would make long-overdue improvements to the state's emergency medical services (EMS) system.
AB263 – dubbed the EMS Workers' Bill of Rights – would resolve issues that affect emergency medical technicians (EMTs), paramedics and others and the services they provide to their communities.
Jason Brollini, a 24-year EMS worker and president of UEMSW/AFSCME Local 4911 knows the perils of the industry first hand. During a recent press conference, he shared his gratitude for AB263.
"It's unfortunate that the stresses that we have remained constant over 24 years," Brollini said. "In those 24 years, I've had four of my colleagues and members commit suicide … (due) to PTSD and the critical incidents that they've encountered on the job."
AB263 would provide adequate rest and meal breaks, protections against violence in the workplace, and access to mental health care for EMS workers. To read the text of the bill, go here.
Assemblymember Freddie Rodriguez, D-Pomona, introduced AB263 in February.
"As a legislator and EMT for over 30 years, I am obligated and proud to stand up and speak out for thousands of hardworking individuals who are integral to our healthcare system," he said. "The EMS Workers' Bill of Rights will make meaningful changes to the emergency service worker industry."
The measure has received overwhelming support from members of the Assembly Committee on Health and the Assembly Committee on Labor and Employment, the University of California, Berkeley, Labor Center, and many California EMS workers. The Labor and Employment committee is scheduled to hold a hearing on AB263 on April 19th.
Despite increasingly low wages and poor working conditions, EMTs and paramedics remain the backbone of the EMS system. These professionals deliver vital care to families and communities when life hangs in the balance. Approximately 25,000 EMS professionals nationwide are members of AFSCME.