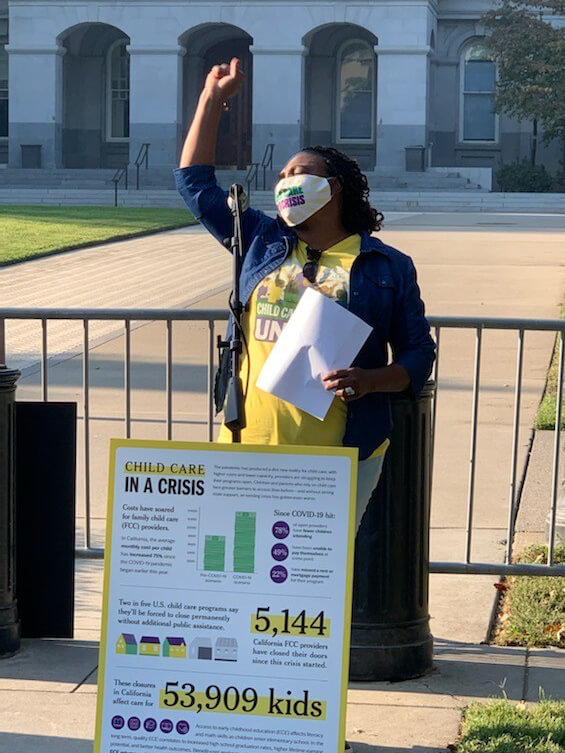 LOS ANGELES – Hundreds of family child care providers held rallies and car caravans across California on Wednesday to call attention to a system in crisis.
Represented by Child Care Providers United (CCPU), parents and community members joined providers for socially distanced events outside Gov. Gavin Newsom's offices in Los Angeles, Fresno, Sacramento and San Diego.
"We need Governor Newsom to intervene and stabilize the child care system. Front-line workers are counting on us to care for their children so they can perform life-saving work," said Charlotte Neal, a UDW/CCPU member from Sacramento. "We've lost 5,000 family child care providers [in California] already this year, and those of us remaining are on the brink; Governor Newsom, please help our small businesses survive this pandemic and be a part of California's recovery." 
CCPU represents more than 40,000 family child care providers across California and is a partnership of SEIU Local 99, SEIU Local 521, and UDW/AFSCME Local 3930.
Wednesday's actions came on the last day before providers must absorb the cost of family fees for children not attending due to COVID-19, due to the federal government's failure to provide funding by a state-mandated deadline. Earlier this month, Newsom signed into law Senate Bill 820, which waived some family fees, gave providers more paid closure days due to COVID-19, and addressed parent signatures when families are staying home. Yet, while it is a good start, SB 820 doesn't do nearly enough to address this crisis.
Providers like UDW/CCPU member Miren Algorri from San Diego fear that these fees mean another financial blow for her and other providers.
"We're being asked to pay close to $1,000 in fees every month to the state to keep a slot open," said Algorri. "Many providers across the state are facing this type of situation and are looking at closing their doors because they cannot afford this unnecessary tax. ... It's time for the state to right this wrong and not fault families or providers who are just trying to keep our communities safe during the pandemic."