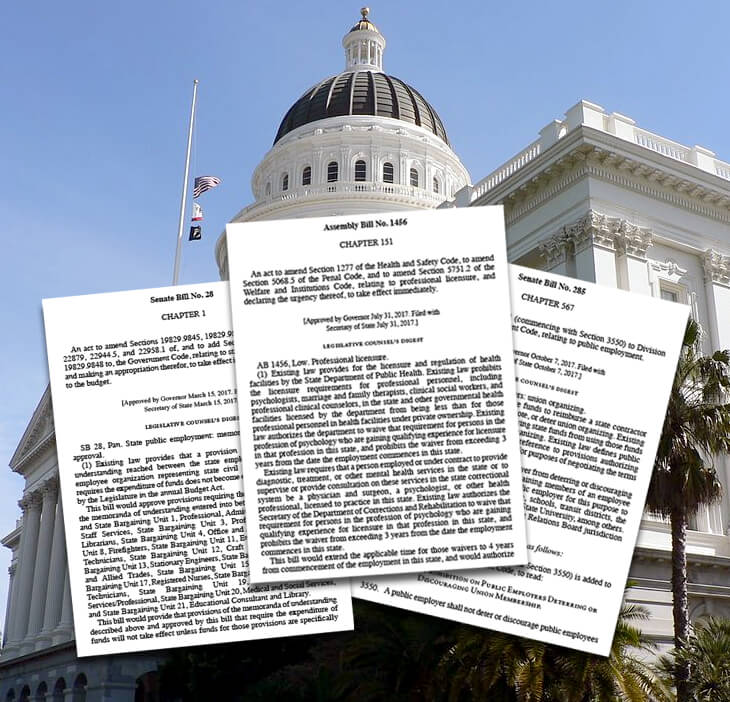 Through AFSCME, public service workers build the power in numbers they need to make progress for their jobs, their families and the communities they serve. The achievements of AFSCME members this year in the nation's largest state – California – underscore what working people can do when they have the freedom to stand together through strong unions.
Among the 859 bills Governor Jerry Brown has signed into law in this legislative session were seven that were sponsored or co-sponsored by AFSCME California affiliates in order to protect and improve public services for Californians.
Among them:
AB 1456, backed by the members of Local 2620, protected services for some of California's most vulnerable citizens. One hundred AFSCME state psychologists were at risk of losing their positions because of an unfair timeline for licensure. This bill brings uniformity and fairness to the law governing licensure for psychologists by extending the time line to obtain a license from three years to five years in certain settings.
AB 1538, championed by members of AFSCME and the Union of American Physicians and Dentists (UAPD), was designed to protect patients and curb dangerous outsourcing by Alameda Health Systems in Northern California. Under AB 1538, Alameda Health must provide justification for wanting to outsource medical work to outside physicians and surgeons. Alameda Health has five hospitals and four wellness centers and employs more than 1,000 physicians, according to its website.
SB 285 bars public employers from union-busting activities. The bill states that no state, county or municipality in California should interfere with public service workers' freedom to join and stick together in strong unions. This measure was co-sponsored by AFSCME, Service Employees International Union (SEIU), the California Labor Federation and the California Nurses Association.
A Lone Veto
Among the 118 bills Brown vetoed was SB 574. That bill would've prevented the University of California (UC) system from doing business with contractors who were convicted of labor abuses. It also sought to block UC from accepting bids that undercut the wages and benefits of current employees.
The governor's veto message did call SB 574 "a well-intentioned bill" and noted that UC has more work to do to contain costs. Brown also said that "other actions to improve UC's policies" should be considered in the state budget process.
Local 3299, which worked hard for upwards of a year to enact SB 574 into law, is committed to making a renewed push for greater transparency and accountability in UC's contracting policies in the second year of the two-year legislative term. Earlier in this session, members of Local 3299 fought for and won anti-outsourcing language that applies to all 10 UC campuses.