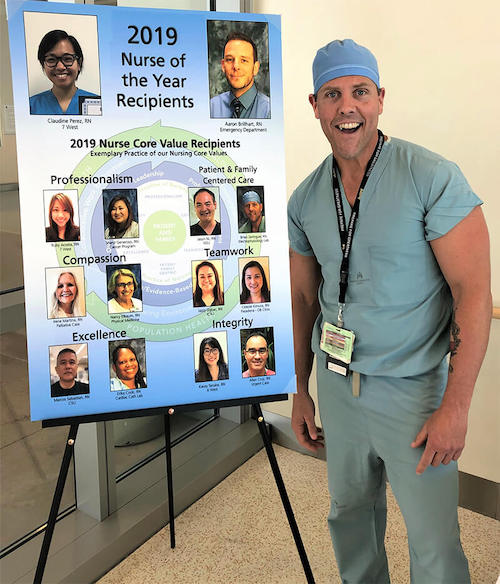 It was Brian Zeringue's first year on the job at the University of California, Los Angeles, and he wanted to quit. A registered nurse in the intensive care unit, he'd been caring for a sick patient who died.
It was the first time that a patient had died on him and it was hard.
"I took a day off to deal with it and my colleagues called me at home," recalls Zeringue, who is now a cardiac nurse in the electrophysiology lab at the Kaiser Permanente Los Angeles Medical Center and a member of the United Nurses Association of California (UNAC)/AFSCME Local 1199. "One of them asked me, 'How are you doing?' And I said, 'Oh, I think I need to go back to law school.'"
But Zeringue's colleague, a veteran nurse, would have none of it.
"She told me that I had done a great job, and that I was the man for the job," he says. "And so, I went back to work and kept pushing for it. I didn't quit, and it was because someone believed in me when I wasn't completely confident about myself."
Zeringue is a winner of AFSCME's Never Quit Service Award, which recognizes public service workers who go above and beyond the call of duty to make their communities better. He was nominated by Jess Mangubat, a colleague and registered nurse.
"Many times over the last few years, I have observed Brian's hard work on the front lines and he always goes above and beyond to help patients and staff," Mangubat says. "His dedication to the patients is extraordinary. He's very respectful, very professional, and he does whatever he needs to do for them."
Zeringue, whom many colleagues know as a health and fitness buff, says he first embraced a never-quit approach to life when he joined the Marines at age 18.
"I'm 45 years old, and every day I strive to stay motivated to never quit," he says. "I get that from the Marine Corps."
Being a nurse, Zeringue says, comes with many rewards.
"It has taught me more about how to be humble and to be compassionate," he says. "When you're at someone's bed side and they're coming to their end, you reflect on your own brevity and shortness of life and that every life is delicate, and we have to be willing to serve and help each other out."
In the 16 years that he's been a cardiac nurse, things haven't always been easy, but Zeringue doesn't think about quitting anymore.
"The most rewarding part of my work is when somebody says, 'Thank you … thanks for taking care of me,'" he reflects. "That's not why I do my job, but when somebody is grateful it reminds me that we are all called to serve with the talents we have, and we have to make the best use of them."