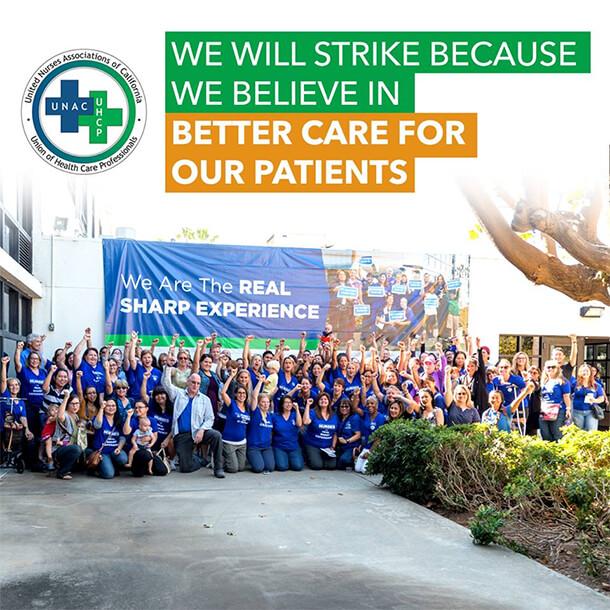 Calling it a "last resort," registered nurses at San Diego's Sharp HealthCare formally put management on notice that they will strike for three days starting Nov. 28 over unfair labor practices by the employer during contract negotiations aimed at reducing high turnover due to inadequate pay.
Turnover at the Southern California hospital chain is significant. Their union, UNAC/UHCP (affiliated with the National Union of Hospital and Health Care Employees [NUHHCE]/AFSCME), says more than 500 nurses have left the company in just the first nine months of this year because it pays $8 to $15 per hour less than what other nurses earn at area health organizations.
Negotiations have been going on since July. To build public support, more than 300 nurses, health care professionals, clergy, students, UNAC and allies and a lawmaker gathered in solidarity this October with Sharp Healthcare nurses at the San Diego Convention Center.
On Thursday, UNAC/UHCP submitted a 10-day strike notice to management, noting that the union intends to strike for three days. "A strike is always a last resort," the union said in a statement. "But we must do whatever it takes to stop Sharp's repeated violations of federal labor law and refusal to address patient care problems caused by an escalating crisis in nurse turnover."
Earlier this month, Sharp RNs overwhelmingly voted to reject management's so-called "last, best and final offer" and authorize an unfair labor practices (ULP) strike. Ninety-eight percent of 2,203 nurses who cast ballots voted to authorize the unfair labor practice strike.
In a Q & A for members, the union stated, "Among other violations of federal labor law, Sharp has refused to negotiate a fair contract by prematurely abandoning negotiations and unilaterally implementing proposals that inadequately address our concerns and hamper our efforts to boost recruitment and retention of quality RNs so that we can provide the best possible patient care."
Sharp operates four hospitals in the San Diego area and employs approximately 17,000 workers.