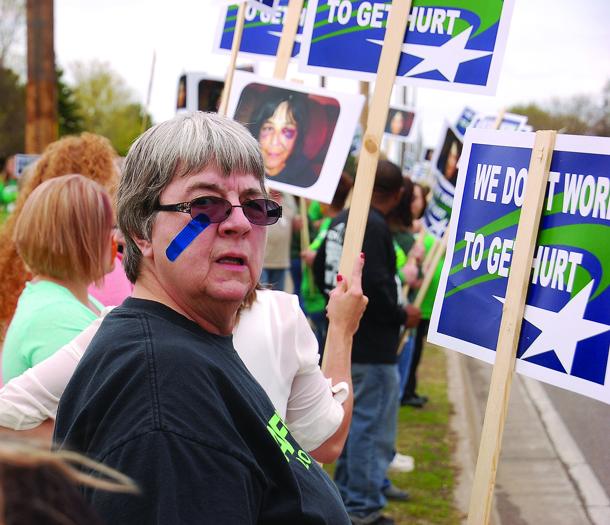 Clocking in should never mean putting your life on the line. Getting hurt should never be part of anyone's job description. That's the bottom line for AFSCME Council 5 members who work in state-run mental health facilities in Minnesota.
Fed up with management's lip service, workers escalated their campaign for workplace safety.
"We've been taking a beating," says Jackie Spanjers, an LPN and president of Local 1307 at Anoka Regional Treatment Center. "Patients spit on us and chase us with weapons. They kick us, punch us, choke us and bite us. They throw dangerous fluids on us – urine, feces, hot coffee and boiling bacon grease."
Those injuries – and hundreds more – are documented on Safe Staffing MN, a Facebook community where workers share their stories and unite efforts to improve safety. Their high-profile media campaign exposed problems that supervisors wanted to keep secret. They got the attention of Gov. Mark Dayton and, with his support, claimed several early victories.
AFSCME Council 5 also increased public awareness with informational rallies. Here is what they've achieved since the Facebook postings began:
Jaime Tincher, chief of staff to Governor Dayton, joined AFSCME Council 5 representatives in a July 21 tour of the Minnesota Security Hospital in St. Peter. In a statement afterward, she said, "We owe it to these staff members to do everything we can to ensure their safety. …We will work even more intensively with everyone at this facility, local law enforcement, and legislators, to ensure the successful management of this important program."
Local 404 leaders at St. Peter Security Hospital won a new law making it a felony for a patient to assault workers in a state hospital, a law that has already been applied. They filed an OSHA complaint and forced the state to negotiate an injury reduction plan. They also secured $10.4 million to hire 20 new security counselors and construct safety improvements at their facility.
AFSCME Local 1307 leaders went straight to the top of the Department of Human Services. Four days later, Commissioner Lucinda Jesson capped admissions at Anoka Regional Treatment Center, giving understaffed workers relief from mandated overtime.
Local 607 leaders are now invited to do a safety inspection before a new group home opens. They flag hazards, like glass shower doors that violent clients could break to injure themselves and staff.
Spanjers, and Tim Headlee, president of AFSCME Local 404 and a security counselor at the Security Hospital, are two key union leaders who pressed for more staffing and safety improvements.
Headlee said attacks on hospital security personnel increased significantly after the settlement of a lawsuit in 2011, limiting the use of patient restraints. As a result, attacks on Security Hospital staff, alone, more than doubled since 2011. "It's kind of frightening because we're the last stop in the chain of mental health facilities," he said. "There's nowhere else to go" for these violent patients.
Frontline workers are demanding better training for physical encounters, permission to use mobile restraints that prevent patients from kicking and swinging, and an admissions unit where new patients are assessed before being placed with other patients and staff.
"We've raised our voices," says Spanjers. "Our solutions aren't falling on deaf ears anymore."