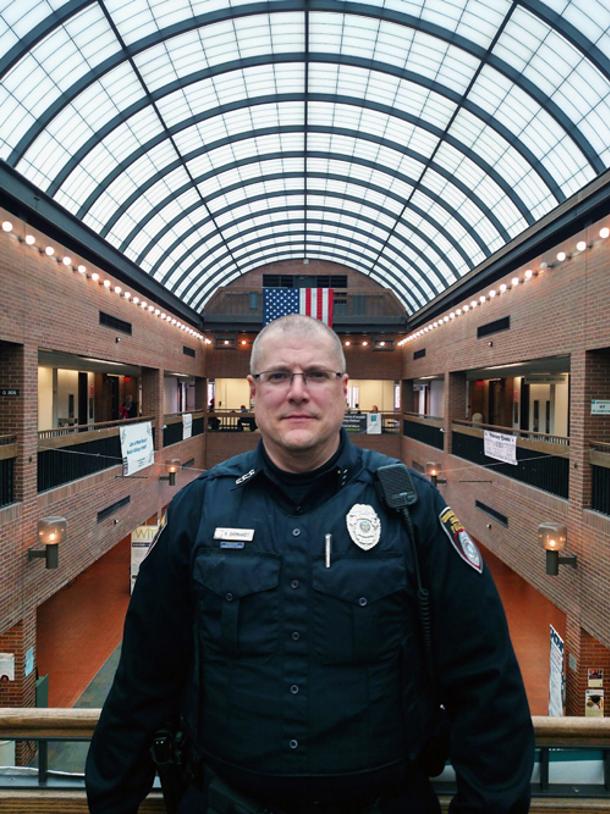 February 16 started out as a normal Tuesday for Ray Barnhardt, a 15-year veteran of the campus police force at Cuyahoga Community College (Tri-C) in Cleveland. But before the day was over, the AFSCME Local 2678 (Council 8) member would be called on to save a student's life.
It was around 10:30 that morning, local Pres. John P. Buettner said, when a student came running up to Officer Barnhardt, out of breath, saying "I need your help right now – a woman is going to jump!"
The two took off running toward the main campus building. When they got to the large common area in front of the building, Barnhardt saw a woman on the second-story balcony, standing outside the railing and holding on with one hand.
Barnhardt dashed up the stairs, arriving just as the woman let go. Fortunately, he was quick enough to grab her and pull her back to safety.
"Had it not been for the intervention of Officer Barnhardt, she would surely have died," said Buettner, who leads the 160-member bargaining unit for officers and blue-collar college employees. "My co-worker got to her at the very last second as she let go, saving her life."
According to Buettner, a similar incident at the same location four years ago led to the death of a student.
Since 1963 when it opened as Ohio's first community college, Tri-C's 12 locations serve more than 55,000 credit and non-credit students. It remains Ohio's largest public community college. AFSCME Local 2678 has represented Cuyahoga Community College's employees since 1973.