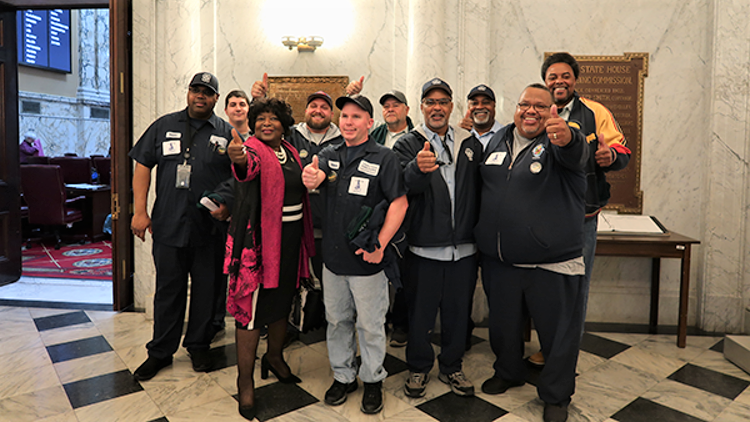 ANNAPOLIS, Md. – The fight for collective bargaining in Maryland continues.
Charles County employees went to the Maryland State House this month to urge lawmakers to pass House Bill 443 and Senate Bill 440. Those bills would enable the Charles County Commission to pass a collective bargaining ordinance for county employees.
This would be a huge victory for public employees because nearly everyone who works for private employers in Charles County already has collective bargaining rights – leaving county workers understaffed, underpaid and underappreciated for the vital work they do.
The bills, sponsored by the Charles County delegation, which is chaired by Delegate Edith Patterson, would empower the workers to bargain for better pay, safe staffing requirements and improved working conditions. Safety is a particular concern for many Charles County public employees because they use heavy machinery or are members of road crews exposed to potentially unsafe conditions.
Kevin Yates, who works in the county's utilities department, discussed some of the vital issues on the job affecting workers like him.
"We are the front line for Charles County," said Yates. "Charles County can't run without us. We face safety issues every day, working in traffic, (with) severe understaffing, no hazard pay."
Another utilities worker, Joshua Willey, said, "Part of the reason we are up here fighting is that we want to come together and support the future of employees of Charles County and secure our future as well."
These issues were echoed by Yates' and Willey's co-workers when they visited the State House earlier this month. Workplace safety and protection from hazardous conditions topped their list of concerns.
The House Appropriations Committee held a hearing on House Bill 443 on Feb. 4, with testimonies from Yates as well as another worker from Charles County, Matt Wall. The workers, along with supporting testimonies from AFSCME Maryland Council 67 and Charles County commissioners, emphasized the need for expanded collective bargaining rights to address the workplace concerns of the county's more than 600 public workers.
"We stand in solidarity with the Charles County public employees," said Glen Middleton, executive director of Council 67. "These workers deserve to have the same rights as others, and passing this bill is the first step to securing those rights. We're pleased the county commission is behind us and motivated to come to the table with the workers once the bill passes."
Charles County employees have been organizing through Council 67 and would be joining over 45,000 other members of AFSCME Maryland who continue to fight and win for public employees across the state.
The Senate has scheduled a Feb. 20 hearing on Senate Bill 440.