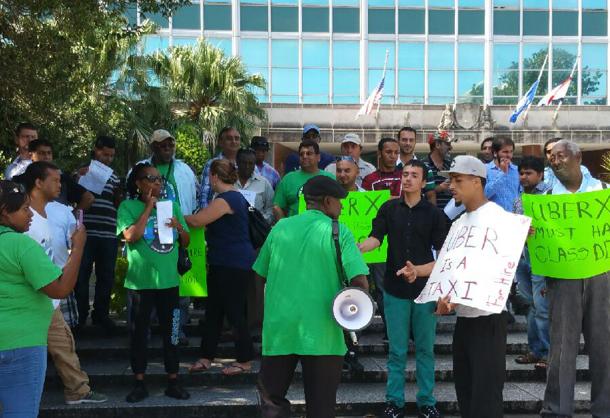 Hundreds of AFSCME-represented cab drivers in Chicago and New Orleans joined cab drivers from around the world Sept. 16 in a "Global Day of Action Against Uber" and other unlicensed rideshare taxi operations.
From Australia to Brussels to the United States, cab drivers are standing up and demanding fairness and pointing out how cities like Chicago are losing revenue by not regulating ridesharing services like UberX and Lyft the same way that licensed cab drivers are regulated.
Chicago Mayor Rahm Emanuel "is talking about cutting services and raising taxes and fees, but he's missing a major opportunity to generate upwards of $65 million in new revenue" by not treating the rideshare services "like the taxi services they are," said Cheryl Miller, a veteran Chicago cab driver and member of Cab Drivers United/AFSCME Local 2500.
Miller, like all other licensed cab drivers, must pay a fee annually to renew her license. She paid to take a chauffeur license, and would pay fines for violating rules governing her profession. "We would like to know why the city is allowing Uber and Lyft to do the same work and provide the same exact services without paying any of the same fees to the city, or following any of the same rules," she said.
It's the same for members of NOLA Cab Drivers for Justice/AFSCME Local 234 in New Orleans. "NOLA cab drivers are trying to protect the people we service," said Niran Gunasekara, vice president of Local 234. "A lack of regulation and enforcement for rideshare organizations like Uber are unfair to the professional taxi drivers that serve New Orleans."
Unlike New Orleans' cab drivers, Uber and Lyft drivers do not pay licensing fees, undergo background checks or operate under the same high standards for their vehicles. As professionals, licensed taxi drivers are not only fighting for a level playing field, they are advocating for their passengers to ensure their safety, Gunasekara said.
That's why the AFSCME-represented cab drivers were speaking out on the global day of action against Uber. They were supported in Chicago by people like Edelia Correa, a Communities United leader, as well as the "Fight for $15." Correa delivered a letter to the mayor signed by more than 100 local businesses and community organizations, asking him to recognize the vital work that the city's cab drivers perform.
"Politicians talk about 'shared sacrifice' but Uber isn't sharing, they're getting a free ride instead of paying their fair share," said Correa.
Learn more about Cab Drivers United/AFSCME Local 2500 here, and check out this story about how they are working through their union to solve such issues as police harassment.
Read more about New Orleans Cab Drivers for Justice/AFSCME Local 234 here.