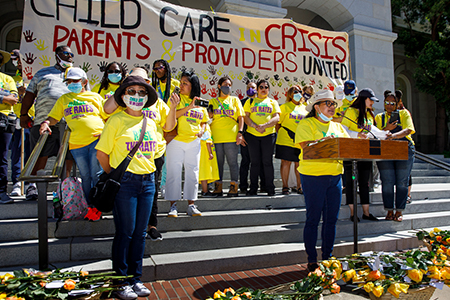 LOS ANGELES – Members of Child Care Providers United (CCPU) voted overwhelmingly on Monday to ratify their first collective bargaining agreement with the state of California.  
The historic agreement includes long-overdue pay raises for providers, investments in continuing education for a workforce made up predominantly of women of color, and critical investments to strengthen access to care for working parents and support California's recovery from the COVID-19 pandemic.
"When providers started organizing almost two decades ago, we knew it would mean even longer days testifying at the Capitol, marching across the state, and rallying to have our voices heard," said Charlotte Neal, a Sacramento child care provider and a member of the CCPU negotiations team. "But we knew that's what we had to do to strengthen the profession and lift working families and their children."
In an election held from July 12 to July 26, 99.6% of all CCPU members who participated in the ratification process voted to accept the agreement. CCPU brings together 40,000 family child care providers across California and is a partnership of SEIU Local 99, SEIU Local 521, and UDW/AFSCME Local 3930.

"Led by women of color, today's historic win is the culmination of nearly 20 years of grit and resilience," AFSCME President Lee Saunders said in a statement. "With this contract, child care providers will finally receive fair compensation for the essential work they do – caring for and educating the next generation. The success of this campaign will help expand access to quality early childhood education for California's working families."

The state of California ratified its side of the collective bargaining agreement via AB 131, this year's child care budget trailer bill that the legislature passed two weeks ago, and Gov. Gavin Newsom signed into law this past Friday.
"Working long hours is nothing new for child care providers like me; that's what it takes to provide quality early childhood education for the young children of working families in Sacramento County and around the state," Neal said.
"We could barely pay our bills before COVID hit, and we watched our union siblings close their doors when they simply ran out of money to pay their mortgages," she added. "Thanks to the providers who voted to ratify this agreement and the parents and legislative leaders across the state who stood beside us in this fight, we finally have room to breathe again."