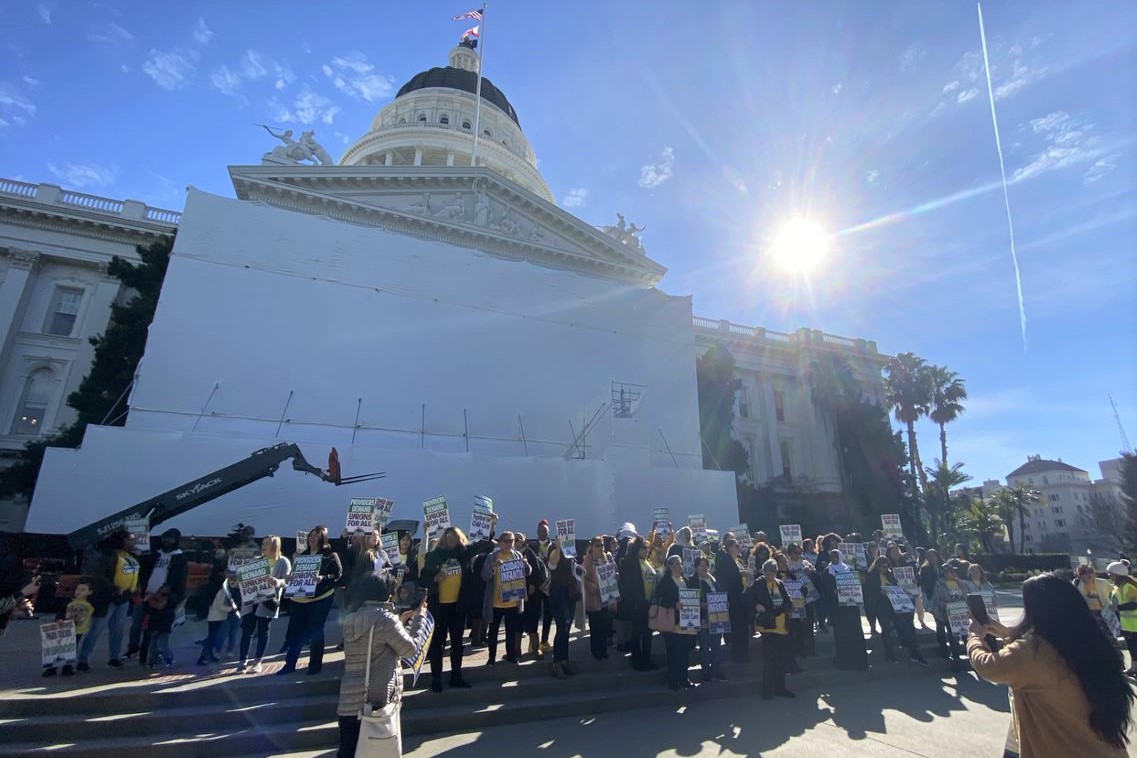 SACRAMENTO, Calif. – Over 200 family child care providers joined together in Sacramento this week to file for what will be the largest union election in two decades.
Child Care Providers United (CCPU), a coalition of members of UDW/AFSCME Local 3930, SEIU Local 99, and SEIU Local 521, rallied at the state Capitol, and then hand delivered more than 10,000 signed union cards to the Public Employment Relations Board.
"I've been in the fight since the beginning, since Day One," said Rosa Gurmilan, who has been a child care provider for two decades. "Now I feel like someone has my back. That the union is going to help me if I have any problems."
The culmination of a 16-year struggle, the upcoming election was made possible by the passage of AB378 in September 2019. The bill granted collective bargaining rights to child care providers in California, the majority of whom are women of color. With over 40,000 providers across the state, this is the largest organizing effort in the country.

For Rahmo Abdi, a child care provider from San Diego and advocate for workers in the Somali and African communities, the day was special not just because of what was accomplished, but also because of what it symbolized.
"Today was so special because this is our victory. We won, and all of us getting together, trying to show how we're united and trying to make a statement ... it's a victory just being a part of it," she said.
Abdi said she made the trip from San Diego to Sacramento to make sure her voice – and her community's voice – was part of this historic day and the promise it holds. "This is my union and this is our union. I want to make sure that I'm represented, and that the Somali and African communities will be represented."
Sinan Akrawi, a child care provider from El Cajon, said, "The history is long and we were fighting for many years to reach this point. Now we will be able to sit with the government and negotiate for pay and for increasing the funds given to organizations that support many of these families, especially low and middle income. It's a very great day, and we will keep fighting until we reach our final goal." 
Next, CCPU members will continue organizing and growing membership commitments, with the election set to occur this spring.
In recognition of this historic election, AFSCME President Lee Saunders said in a statement, "California's child care providers have been undeterred in their decades-long fight for a union because they know that unions provide the power in numbers that working people need to negotiate for better wages, training and resources. With a voice on the job, providers will also fight for increased access to child care so that all children, no matter their zip code, have a fair opportunity to succeed."
To learn more about Child Care Providers United (CCPU), including how you can get involved, visit https://childcareprovidersunited.org/