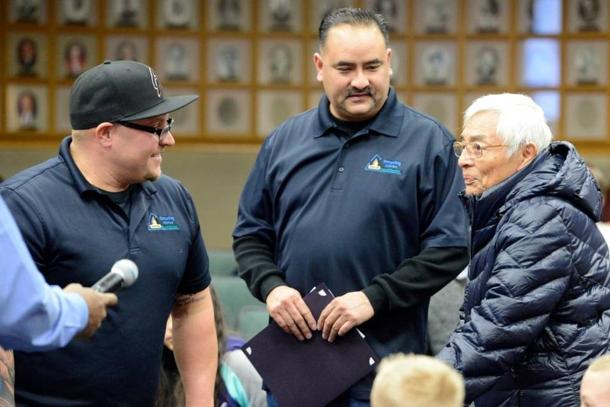 Two AFSCME Local 2703 (Council 57) members were honored by the Merced, California, City Council for their efforts in rescuing an elderly woman who fell in her back yard.
When 88-year-old Rosa Godoy slipped, her cries for help went unheard until the next morning. David Soto and Mike Schlessinger, both Merced garbage collectors, leaped over the fence to rescue her after hearing faint cries of "Help me, help me," despite the loud rumbling of their garbage collection truck.
"Normally I'm hustling, grabbing the cans and bringing them back," Schlessinger said. "For whatever reason, I took a pause and listened."
Soto, a 16-year veteran of the job, added, "We were just in the right place at the right time, I just hope somebody would do it for my loved one."
Good thing their instincts kicked in. Godoy had already been stranded alone for nearly 24 hours next to the running water hose that soaked her, while the temperature fell below 50 degrees. After several failed attempts to get up or reposition her body around the yard she began to grow weaker over time.
"I struggled and struggled all day and night," she told the Sun-Star. "The day continued and the whole night passed. ... It hurt a lot."
The workers recounted their heroic event, which earned them a standing ovation, during a recent City Council meeting. Godoy attended the honoring ceremony and thanked them graciously.
"We didn't really think it was that big a deal," Schlessinger said. "We were just doing what anybody would do."