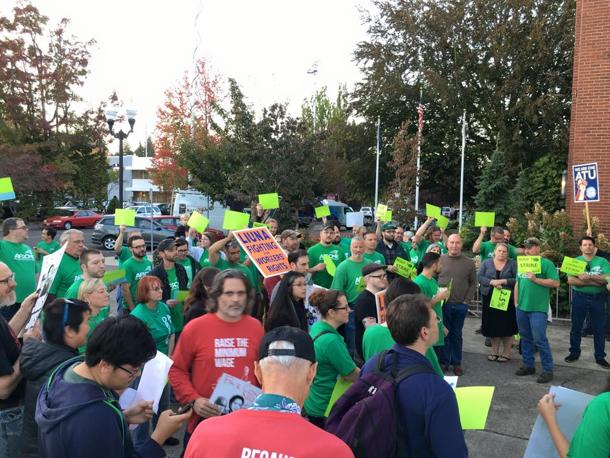 Milwaukie, ORE. – After a strong showing by labor and community partners at city hall, council members unanimously passed a $15 minimum wage resolution and agreed to demands by AFSCME Local 350-5 (Council 75) for a fair contract.
"We had given up a lot at the table already without any cooperation from the city. We were determined and refused to take no for an answer," said Willie Miller, AFSCME Local 350-5 president.
Employees look forward to a well-deserved cost-of-living adjustment of 2.5 percent each year for the duration of the three-year contract. The agreement also includes a 2.5-percent market adjustment in pay for utility workers and mechanics, and a 5-percent increase for permit techs to bring them up to standard with the same positions in similar cities. Additionally, all employees received half a day off on Christmas Eve to prepare for the holiday and spend more time with family and friends.
More than 100 city employees, community activists and local union members packed the October 20 City Council meeting to press the council members to approve the increases. "Reaching out to our community allies strengthened our message to effectively move the needle and settle a fair contract," Miller said.
"This is what democracy looks like," the crowd chanted during the meeting in an act of solidarity. "What do we want? Contract!" they shouted. "When do we want it? Now!"
The city administrators' initial decision not to return to the bargaining table would not be accepted. In the end, by standing AFSCME Strong, the members of AFSCME Local 350-5 prevailed. They recently ratified the new agreement. Also, 27 members recommitted to the union and 13 new members signed up for the PEOPLE program at the MVP level.