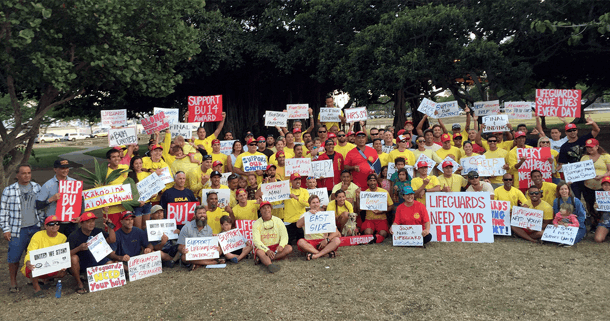 Lifeguards in Hawaii are world-renowned for their skills. What the public doesn't know about them is that they've had to fight repeatedly just to earn a decent living. So earlier this year, the bargaining team of Hawaii Government Employees Association (HGEA)/AFSCME Local 152 took their fearlessness to the bargaining table – and even into the streets.
The efforts of the lifeguards along with their Unit 14 law enforcement brothers and sisters, on behalf of Maui County's 55 lifeguards, brought them to victory. At the union's urging, the Maui County Council Budget and Finance Committee voted in May to approve a resolution to fund a fair contract that includes a 16 percent raise. Maui County was the last jurisdiction in Hawaii to approve the contract, which covers nearly 350 lifeguards and about 400 state law enforcement officers throughout the islands. All HGEA lifeguards and state law enforcement officers will receive the raise.
Once the committee recommended funding the contract, the full council followed with a vote in June to approve the budget (that includes the raise). Mayor Alan Arakawa also approved it. The raise will take effect July 1.
Being an ocean safety lifeguard is a selfless job. They put the lives and safety of others in front of their own, protecting swimmers from strong ocean currents.
"It can be a tough job, but we do it to the best of our capabilities," said Kasey Romero, a lifeguard of Local 152 (Unit 14) in Oahu. "We go out there and we risk our lives on a day-to-day basis, yet some officials don't think we deserve fair benefits and compensation."
The Maui County lifeguards' efforts to win a fair contract are supported by all the members of Unit 14, a statewide unit that represents lifeguards, ocean safety and water safety officers, deputy sheriffs and other law enforcement officers, harbor enforcement officers and state Division of Conservation and Resources Enforcement officers.
Despite strong support from community partners and a pro-labor arbitration ruling in February, the County Council Budget and Finance Committee had stalled to fund for their contract. To put pressure on its members to act, Unit 14 members got energized and took their case directly to the public through phone calls, email messaging and social media postings, and by testifying at public hearings.
Concerned supporters and Honolulu lifeguards also showed their solidarity with the Unit 14 lifeguards at a rally in May, telling their story through the local media.
They are one of the highest at-risk lifeguard jobs in the world, "... and we are basically the lowest paid lifeguards in the world," said Unit 14 Dir. Melvin Puu. "The support from our community and other lifeguards proved to be essential. If officials didn't hear us alone, they certainly heard the outcry of support."