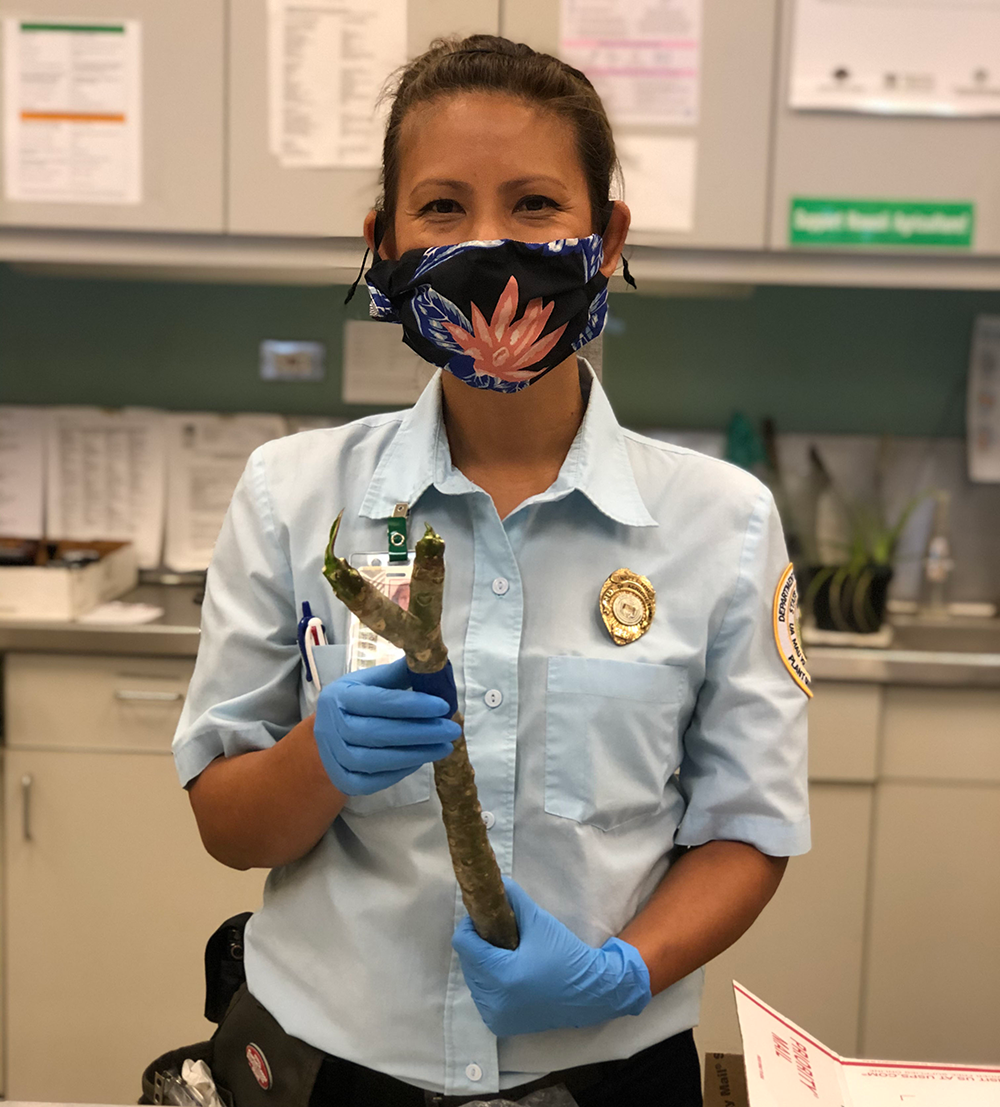 A plant quarantine inspector's job doesn't stop because of a pandemic. Invasive species still pose significant threats to agriculture daily, and as one of the most isolated island chains in the world, Hawaii is highly vulnerable. Nearly 90% of the food in the state is imported, and agricultural inspectors make sure what's coming into Hawaii is safe for all residents and visitors.
Since the COVID-19 outbreak, the Hawaii Department of Agriculture's critical services of plant quarantine inspections have continued like clockwork at the airports and harbors, thanks to members of Hawaii Government Employees Association (HGEA).
"Being a plant quarantine inspector means I am on the front lines, defending the state against any harmful invaders," said Plant Quarantine Inspector Techie Lancaster, a member of HGEA/AFSCME Local 152. "Whether it's an animal, plant, disease or other pest, I have the ability to stop it from causing any real agricultural, economic or ecological damage to our beautiful state."
The pandemic has not disrupted the shipment of food and necessary supplies to Hawaii, keeping the inspectors busy with inspections of air and ocean freight containers. The motto of the state's Plant Quarantine Branch is "Inspect to Protect" and that's what Lancaster and other plant quarantine inspectors continue to do, protecting us and the environment from pesky little fire ants, coqui frogs, coconut rhinoceros beetles and more.
"Since COVID-19, inspections seem more tedious and somewhat stressful in terms of cleaning and being more aware of your surroundings," Lancaster said. "It also takes a little longer because of the extra procedures added, but it's all worth the effort. Everyone is more conscientious of social distancing and being more hygienic in everything we do."
As the state looks to cut its budget, it is critical public services like plant quarantine inspections that can't afford to be reduced. Citing the reduction in force that occurred in 2009, where half of the plant quarantine inspector positions were eliminated, Lancaster said any cuts now would negatively affect the food supply here.
"With limited manpower there would be a significant delay in inspections, and many of the importers would have to wait. They wouldn't be able to get their produce on time, which means the public won't get their produce either," Lancaster said.
AFSCME is fighting to get Congress to provide aid to states, cities and towns so the services the public needs and demands are provided without interruption.
Keeping Hawaii safe
At the airports, Lancaster and her fellow inspectors remain vigilant despite fewer passengers coming to the state due to Hawaii's safer-at-home mandate and strict travel restrictions requiring all residents and visitors traveling between any of the islands to self-quarantine for 14 days.
In addition to regulating the entry of and inspecting agricultural products such as produce, plants, fish and animals that arrive in the state through commercial air carrier cargo and passenger baggage, they inspect parcel carriers like FedEx, UPS and the U.S. Postal Service as well as private, military and commercial aircraft originating from areas known to have the destructive brown tree snake and other foreign hitchhikers.
When she's not at the Honolulu airport, Lancaster is at the Sand Island Plant Inspection Office, primarily inspecting agricultural commodities that arrive in container ships. Additionally, she and other inspectors continue to inspect and certify plant nurseries on Oahu so they can export their plants to other states.
Taking precautions
Lancaster's work has not lessened with the coronavirus crisis. To decrease interaction with the public, agricultural inspections for export and interisland shipments are done either outside of the plant inspection office building or inside while the public remains outside. At the airport, individuals must leave their items and pick them up after inspection.
"COVID-19 is always in the back of my mind, and I do worry about others being careless and not taking safety precautions seriously," Lancaster said. "There is still possible exposure, but washing our hands, sanitizing, wearing a mask, 6 feet distancing and some teleworking help mitigate our exposure."
The diversity and unpredictability of her work is what keeps Lancaster going even during a global health crisis.
"The great part of this job is you never know what may happen," she said. "During any inspection, you may find an insect or disease that is not known to occur in Hawaii. Or at any given moment you may get a call through the pest hot line and soon find yourself hiking up a mountain looking for a snake or crawling through an attic looking for a bat. I like knowing I can make a difference in preserving the natural beauty of Hawaii for future generations to enjoy."