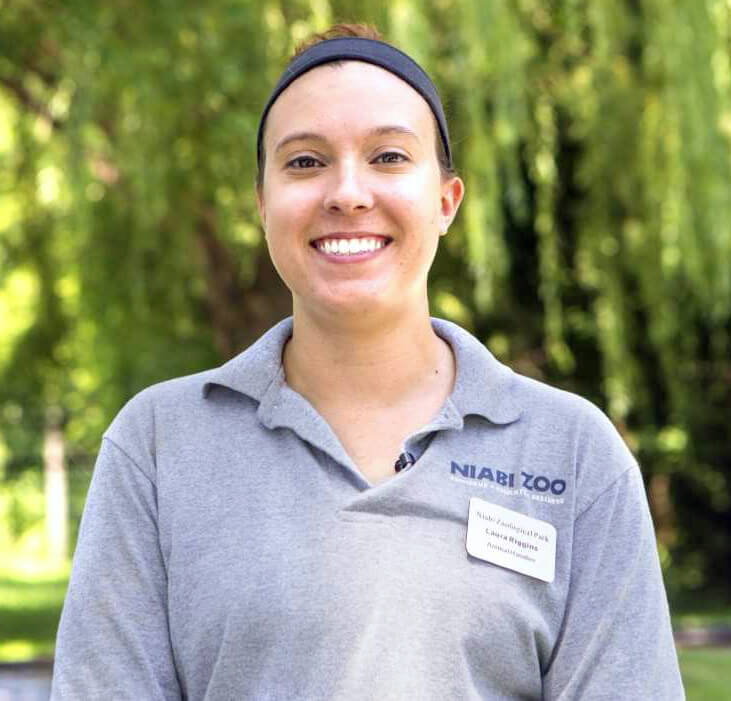 Editor's Note: Laura Riggins is an animal handler at the Niabi Zoo in Coal Valley, Illinois. She also serves as a steward in her union, AFSCME Local 2025, Rock Island County Employees. This story is in her own words.
Every day as a zookeeper is different.
My day starts with health checks, visiting every single animal to make sure everyone is moving, bright-eyed and exhibiting normal behavior. I usually feed the animals in my care and clean their enclosures.
I provide enrichment — activity that stimulates the animals, keeping them active. At the end of the day, I do final health checks and feedings and close things up safely for the night.
There are a lot of things I love about being a zookeeper.
I get to do a lot of different work, things nobody else gets to do. I get to be up close with the animals. I get to train them and build a bond. I also love seeing the social bonds between the animals themselves.
We are very involved with conservation.
We want to make sure our animals are well taken care of, but we also want to make sure wild animals have a safe natural environment and when possible, animals get to be reintroduced to those environments. We raise a lot of money that goes directly toward programs helping animals in the wild. Through our conservation efforts we make the world a better place.
One of my favorite moments was when I was working with the buffed-cheeked gibbons.
We have a mesh inside and I train them to put their shoulder against the mesh. Because of that training, when we do their annual exam, I'm able to give their injection right there so they will go to sleep, we can crate them and take them to the hospital and do their exam.
Gibbons are high-stress animals and we never want our animals to be stressed out. They trust me to do something that is a little scary — earning that trust was one of my favorite moments.
To the Quad Cities community, we are very special.
We are the only zoo within a two-hour drive. We have animals that people would otherwise never get to see or have the opportunity to learn about. And our conservation exhibits help educate our community.
AFSCME is important to us.
I decided to become a union steward because it's a way to help people. To make sure everything is done fairly.