Cool Job: Protecting Florida's Underwater Treasures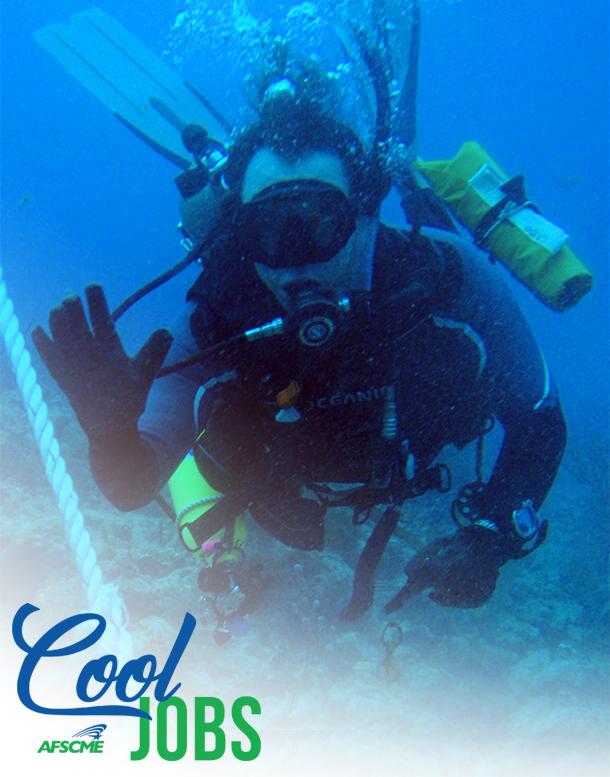 If you've ever visited the Florida Keys, and spent any time off of dry land, then you've visited the Florida Keys National Marine Sanctuary. Established in 1990, it includes 2,800 square nautical miles of coral reefs, shipwrecks, seagrass beds and fisheries. People from around the world come to enjoy recreational activities like diving, fishing and boating.
But who actually protects this fragile ecosystem while keeping it accessible? AFSCME members of course.
Specifically, members of AFSCME Local 3346, because Florida International University administers services on behalf of the National Oceanic and Atmospheric Administration.
Brady Booton, a marine operations technician for more than seven years, embodies AFSCME's Never Quit philosophy. He goes out, rain or shine, to maintain the nearly 1,000 buoys that allow boats to tie up without dropping anchor into the living coral reefs. Booton spends hours at sea, and under water, and works with tools and machinery to demarcate special zones for fishing, wildlife management and scientific research.
"I love my job, but it is hard work and not something everyone has the qualifications or temperament to do," said Booton. "But my coworkers and I know we are helping to preserve this amazing jewel of our country every day."
The Florida Keys is not just a vacation paradise, it's also an expensive place to live. Over the past few months, as NOAA and FIU considered the best ways to fill open positions, Booton and his coworkers worked with AFSCME Florida staff to advocate for better pay to reflect the work they do and where they do it.
And they won. Base pay for the marine operations technician position was increased by $5,000 annually. Booton and his coworkers discovered that they have a strong voice to advocate for their jobs and for those they serve.
"Knowing you have a union, that people are looking out for each other, that makes a huge difference for us as we look forward to our next contract negotiations," Booton said.