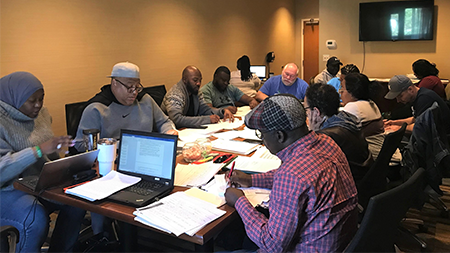 BALTIMORE – The state of Maryland needs to hire 3,400 additional officers to safely operate Department of Public Safety and Correctional Services facilities, according to a new report by AFSCME Maryland Council 3. 
Last week, Council 3, a union that represents thousands of Maryland state employees, held a virtual press conference to share the  results of their report analyzing the dangerously low staffing levels at state correctional facilities across Maryland.  
"Understaffing hinders our ability as corrections professionals to provide the best care and safety for detainees," said Brittany Cozart, a correctional officer at the Metropolitan Transition Center in Baltimore. "We're not able to get our work done, and those of us who have stayed are not being compensated for all of the extra work we've taken on. That has led to numerous resignations, health issues and even death for our fellow officers."  
The report also offers detailed recommendations for each state facility, including the number of positions needed at each institution to achieve safe staffing levels.  
"The way we are currently staffed, there is no room for error or accidents," said Rownite Stevens, a correctional officer sergeant at the Eastern Correctional Institution in Westover. "Without safer staffing levels, the safety of everyone in the facilities is sacrificed. Officers are working 80 hours a week, they're getting drafted left and right, plus they're working overtime. We've said over and over again that we're understaffed, and the previous administration frequently ignored our concerns or tried to tell us that we weren't." 
Dorian Johnson, a correctional officer sergeant at the Chesapeake Detention Facility in Baltimore, is eager to work with Maryland's new governor, Wes Moore, to improve staffing levels. 
"Every day we operate like this puts the people who do these jobs and those we supervise at risk of being seriously hurt. I am looking forward to working with Gov. Moore's administration to update these staffing plans and increase staffing in these state facilities. That includes increasing the wages of the officers that have been doing these jobs and working in these dangerous conditions for so long," said Johnson. 
This report is a result of the work of a group of 16 DPSCS correctional officers, all active leaders in Council 3, who visited each institution included in the report to observe how posts were being staffed and to determine what safe staffing levels would look like.  
"This report represents hundreds of hours of work done by our team, visiting every single institution in Maryland and observing all three shifts and working around the clock to show the true number of additional officers we need to have safe staffing," said Oluwadamilola Olaniyan, a correctional officer sergeant at Jessup Correctional Institution in Jessup.  
Council 3 President Patrick Moran said, "We are hopeful that this year's report represents a turning point in addressing the dangerous understaffing in our state facilities. Vacancies in DPSCS are at an all-time high, and AFSCME members across the state have said that this short staffing negatively affects their ability to safely carry out their job responsibilities and causes alarming levels of mandatory overtime, burnout and dangerous working conditions. We are looking forward to working with Gov. Moore's administration to implement the recommendations in this report and to rebuild our state services." 
Members of Council 3 who work in corrections gathered in Hagerstown last Saturday to review the report's findings and create a strategy to remedy the understaffing crisis in Maryland's correctional facilities. 
The crisis that AFSCME correctional officers are facing mirrors a nationwide staffing crisis. Public services are hundreds of thousands of jobs short from pre-pandemic levels. States, cities and towns are not hiring fast enough to fill the lost jobs, which is putting a strain on the everyday heroes who keep our communities running. 
To address this crisis, AFSCME members are organizing together to Staff the Front Lines — investing in our essential workers and recruiting qualified and passionate professionals to work in public service. 
To read more stories about the nationwide staffing crisis, click here.