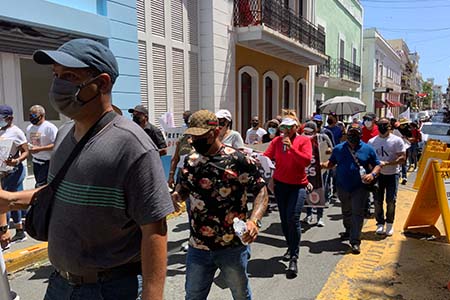 More than a hundred correctional officers in Puerto Rico who are members of Alianza Correccional Unida (United Correctional Alliance, or ACU) rallied last week to demand long overdue wage increases and better working conditions.
ACU Local 3500 is part of Servidores Públicos Unidos de Puerto Rico, AFSCME Council 95.
Holding signs that read, "wage fairness for all officers," they marched to La Fortaleza, the official governor's residence, to demand that Gov. Pedro Pierluisi fulfill his promise to raise their wages. It's been 12 years since their last wage increase.
"We will not rest or retreat one step in this fight for wage fairness," said Jessica Martínez, a correctional officer who is president of ACU.
"Correctional officers are some of the most exploited public service workers who must submit to extreme work demands, lack of equipment, personnel and support, and who risk their health and lives every single day. But when it comes to remunerating us, we receive the worst salaries in this country," she added. "What we demand is justice, and everyone seems to agree on this, but when it comes time to take action, nothing happens, and we are tired of this game."
Although the main issue for correctional officers is low pay, there are other issues as well: COVID-19; lack of personnel, which is in part the result of low wages that encourage high turnover; forced overtime; lack of equipment and tools to do their jobs; and lack of recognition and respect by management. Workplace safety is another big concern.
The rally is part of a series of demands that the union has been making for months. Pierluisi said earlier this year that he would offer wage increases to correctional officers, but this promise has gone unfulfilled.
"We are tired of so many promises, we want action," Martínez said. "We want a wage increase that offers fairness to our correctional officers, who so greatly deserve it."
The rally came on top of several actions that members of ACU Local 3500 have taken in recent months to draw attention to their plight and demand change.
In May, members rallied at the Capitol demanding approval of a bill that would provide a meaningful salary increase and another that seeks to extend the contracts of correctional employees.
In June, the local held demonstrations at three correctional facilities demanding raises. About 350 members participated at facilities in Ponce, Bayamon and Guayama. Also in June, members held a demonstration in front of the Financial Oversight and Management Board offices, demanding salary increases on par with police officers.