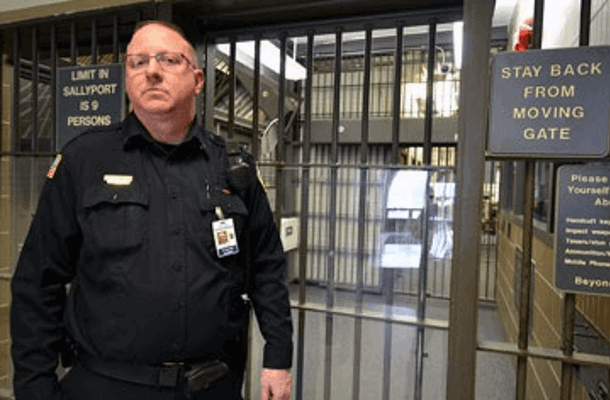 ST CLOUD, Minn. – Every day, Correctional Sgt. Rick Neyssen makes a five-minute commute to the Minnesota Correctional Facility – St. Cloud, one of the state's largest prison facilities, and joins his co-workers to provide dedicated, professional security in one of the hardest work environments you can imagine.
To understand the dangerous work that Sgt. Neyssen, a member of AFSCME Local 599 (Council 5), and his co-workers do is to appreciate the critical public service they perform. They face these conditions day in and day out, sometimes without adequate staff support.
Corrections officers and other personnel who work in jails, prisons, and community corrections facilities across the country put their lives on the line each time they check in. That's why, during National Correctional Officers and Employees Week (the first week in May), we salute these brave women and men who serve us with distinction.
National Correctional Officers' Week was established in 1984 and later modified by Congress to include other public service workers in correctional facilities like the institution in St. Cloud, which is operated by the Minnesota Department of Corrections. It is the state's main intake facility for inmates, many of whom come with mental health and addiction issues.
Sgt. Neyssen and his co-workers have many responsibilities. In addition to his job as a Corrections Sergeant, for instance, he also serves as a Yard Sergeant and a Tool Control Sergeant, in charge of overseeing the tools in use throughout the prison.
At any one time there are roughly 120-150 inmates for every two to four officers. Sgt. Neyssen operates on the conviction that the highest standard of professionalism is critical, ensuring the best outcomes for everyone – the public, his co-workers and the inmates themselves.
"Every time you deal with an offender you're selling your ability and authority," he said. "It's important that you show up to work clean-cut, in a clean uniform, and sharp. … It's imperative that we're all business to keep control of the situation.
"Security is job number one," he added. "Whether it's maintenance or plant ops [operations], it's still security first."
Sgt. Neyssen noted that many offenders are eventually released back into society. That's why "it's incumbent on us to be professional at all times," he said. "It's best for the community when they get out, for the offender, and for you."
Despite the hazards of his job, Sgt. Neyssen said one of the hardest parts is leaving it at the door. They see inmates at their best as well as their worst, all while struggling with mental health and addiction. Sgt. Neyssen and his co-workers are not uncaring. "There is this preconceived notion that we're all large, knuckle dragging Neanderthals," he said. "It's not true. We're a very intellectual, well spoken, and thoughtful group. We have to be. People need to know we're like anyone else. We're doing a serious job and take it very seriously. We're not just a bunch of thugs and lugs."
Some 62,000 corrections officers and 23,000 corrections employees are proud members of AFSCME Corrections United (ACU). To each and every one of you, we salute you during National Correctional Officers and Employees Week – and every week – for working hard to make our communities safe. You never quit on us and AFSCME won't quit working to make sure you have the staffing you need to keep you safe.