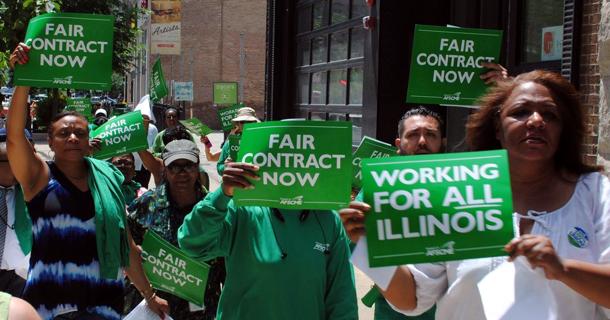 SPRINGFIELD, Ill. – A year after Illinois Gov. Bruce Rauner walked out on contract negotiations, state workers are holding their first-ever strike authorization vote.
Instead of heeding AFSCME's call to return to the bargaining table, Rauner asked the Illinois Labor Relations Board – which he appointed – to declare that negotiations are at an "impasse."
Such a declaration would allow the governor to impose his own terms, including a 100 percent hike in employee costs for health care, a four-year wage and step freeze and the end of rules that prevent reckless privatization.
"By refusing to negotiate, Rauner is forcing employees to make a deeply troubling choice: Live with the governor's unfair terms or go out on strike," AFSCME Council 31 Executive Director Roberta Lynch wrote in a recent op-ed. Lynch is also an AFSCME International vice president.
Rauner's proposals for huge health care cost increases and a four-year wage freeze would cut the state employees' average pay by $10,000.
"It may be hard for a mega-millionaire like him to appreciate, but that kind of loss would do serious harm to the typical working family," Lynch wrote.
Council 31 appealed the Labor Board's decision and secured a temporary stay that prevents the governor from imposing his terms for now – but the stay could be lifted at any time. In an effort to break the stalemate, Council 31 proposed a new settlement framework that significantly modifies the union's previous positions on core economic issues.
Rather than welcoming this compromise, Rauner still refuses to work to find common ground. Within hours of receiving the union's offer, he dismissed the terms as "superficial" and wildly exaggerated their potential cost to the state.
That's why Council 31 members, who provide vital public services for Illinois residents, are deciding whether to authorize their bargaining committee to call a strike. The strike authorization vote, which began Jan. 30 in each local across the state, ends on Feb. 19. Ballots will be counted after all voting is concluded.
Even if a majority of union members vote "yes," it does not necessarily mean there will be a strike because the bargaining committee will continue to do everything possible to reach a fair settlement. But it does mean that if all efforts fail, about 30,000 state employees will be prepared to strike if the bargaining committee issues the call.
Support for state workers is growing in communities, among religious leaders, and from others in the labor movement. Leaders of more than 20 unions sent a letter to employees expressing their solidarity. They recognize that AFSCME members are the front line of defense against Rauner's efforts to wipe out unions in Illinois.