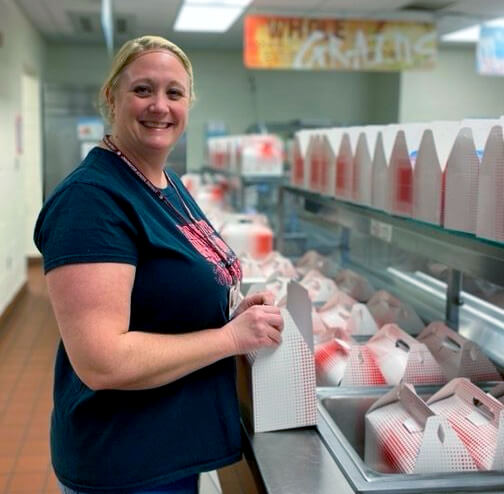 The coronavirus outbreak has had far-reaching effects on public services and the workers who power them. A number of AFSCME Council 13's 67,000 members in Pennsylvania have been on the front lines, keeping communities running through these unprecedented times. School and university employees, correctional officers, nurses and transportation workers still have to work, some from home – and some on site.
"It's all about feeding the kids," said Helen Malloy, vice president of AFSCME Local 2196 (Chichester School District) and lead cafeteria manager at Linwood Elementary School, as she discussed the Chichester food service crew's remarkable efforts to continue to feed children from low-income families who rely on school for breakfast and lunch.
Malloy, along with her fellow Local 2196 members, have gone to work on a volunteer basis to prepare meals at the local middle school to be distributed in school parking lots out of a delivery truck.
"The superintendent has been blown away by how employees are stepping up," she said.
Local 2196 President Jimmy Oberhoff, an electrician for the school district, was part of another volunteer crew of about 30 members who deep-cleaned and sanitized the high school, middle school and elementary schools so the buildings are ready when students return, whenever that may be.
"I'm very proud of our AFSCME members for jumping in and volunteering," Oberhoff said.
On the other side of the state, Jeff Frontera, president of AFSCME Local 297 (Pittsburgh School Employees), said people "are finally realizing how bad they need us," as he and a handful of his fellow members work to deep-clean the Pittsburgh School District's 65 schools.
Meanwhile, as universities in the Pennsylvania State System of Higher Education close campuses, their clerical workers continue to serve students and their families from home.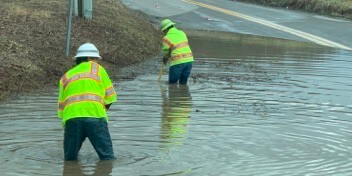 Carolyn Evans, vice president of AFSCME Local 2345 (West Chester University) and a clerical employee there, said she thought working from home would be tough, but management has been working with them and communicating often, so it hasn't been too bad. But workers still don't know when they will return to their regular worksites.
"We're still servicing customers. Even though the university is closed, the services are not," Evans said.
One institution that simply cannot close is the prison system.
Bill Jones, president of AFSCME Local 1738 (Lancaster County Prison) and correctional officer at Lancaster County Prison, said he and his co-workers have stepped up precautions for the safety of inmates and employees alike. That means legal visits are done via teleconference and if an inmate has a fever, the staff quarantines the whole housing area.
"They're taking your temperature when you come to work. If you're over 100 degrees, you have to go home," Jones said.
Another aspect of corrections is nursing. Melissa Holden is the president of AFSCME Local 2958 (Huntingdon and Smithfield state correctional institutions) and a licensed practical nurse at SCI Huntingdon. She said her institution is calling only a block at a time for meals and medicine distribution instead of an entire side of the prison in order to reduce crowds.
Beyond that, prison staff members are following similar protocols as they do with flu symptoms. Inmates displaying such symptoms must wear masks and they and their cell mates are quarantined. Holden and her fellow employees are being extra careful, washing hands and sanitizing work areas even more than usual.
"I feel like they're doing everything they can possibly do. We get one or two updates almost every day in our email," Holden said.
While we are encouraged to stay home, it is important that roadways stay open and continue to be maintained. In Clarion County, about 18 volunteer Pennsylvania Department of Transportation (PennDOT) employees are covering the entire county.
"Our management and union came together to make these decisions that were not only the best for our members but for the commonwealth. By calling all members and asking for volunteers, we assured that we had employees that wanted to be here and were OK taking the risks to do so," AFSCME Local 2112 (Clarion County Trades and Labor) President Josh Minich said.
Minich and his fellow Local 2112 executive board members were the first to volunteer, and others followed suit, to the point that there are enough employees to fill in if some get sick.
These members are doing emergency work such as patching potholes, removing debris, picking up roadkill, removing trees, controlling traffic at accident sites, as well as responding to recent flooding and doing regular spring/summer preparations. On top of that, there is snow in the forecast so they're getting plows ready.
"It's our job and we need to keep the taxpayers and motorists safe," Minich said. "At times like these, we're public employees. Our job is to serve the public first and worry about ourselves second."