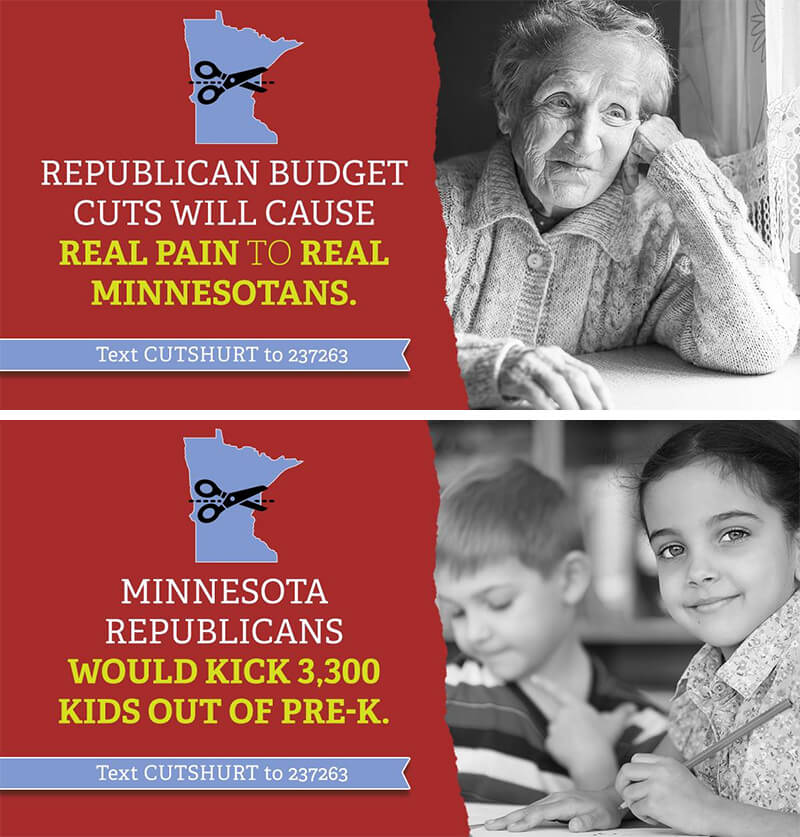 ST. PAUL, Minn. – Two of Minnesota's largest public worker unions – AFSCME Council 5 and Minnesota Association of Professional Employees (MAPE) – have launched a "Cuts Hurt Minnesota" campaign on social media to expose harmful budget cuts proposed by Republican majorities in the state House and Senate.
The campaign, launched last week, shows how the majority's budget proposals will cause real pain for real Minnesotans, including vulnerable adults, kids, working families, veterans, college students, motorists, transit riders, state park visitors, and residents who care about clean water, public safety and healthy communities. Learn more at www.cutshurtmn.com.
This campaign will run until the legislature adjourns by midnight May 22. Digital display ads will urge people to call their legislators and ask them to support Gov. Mark Dayton's budget.
Lawmakers have only one week to finalize decisions on more than $40 billion in taxpayer money that will make up Minnesota's next two-year budget.
"We do Minnesota's work," said Eliot Seide, executive director of AFSCME Council 5. "Students are smarter, families are healthier and communities are safer because we advocate for budgets that adequately fund public services."
"There's no need to slash the state budget when Minnesota has a $1.6 billion surplus," said Chet Jorgenson, president of MAPE. "We urge the Republican majorities to work with Gov. Dayton to shape a budget that puts hardworking families ahead of billionaires and big corporations."
AFSCME Council 5 is a union of 43,000 workers who advocate for excellence in services for the public, dignity in the workplace, and opportunity and prosperity for all working families.
MAPE is a union of 14,000 professionals employed by the state of Minnesota.