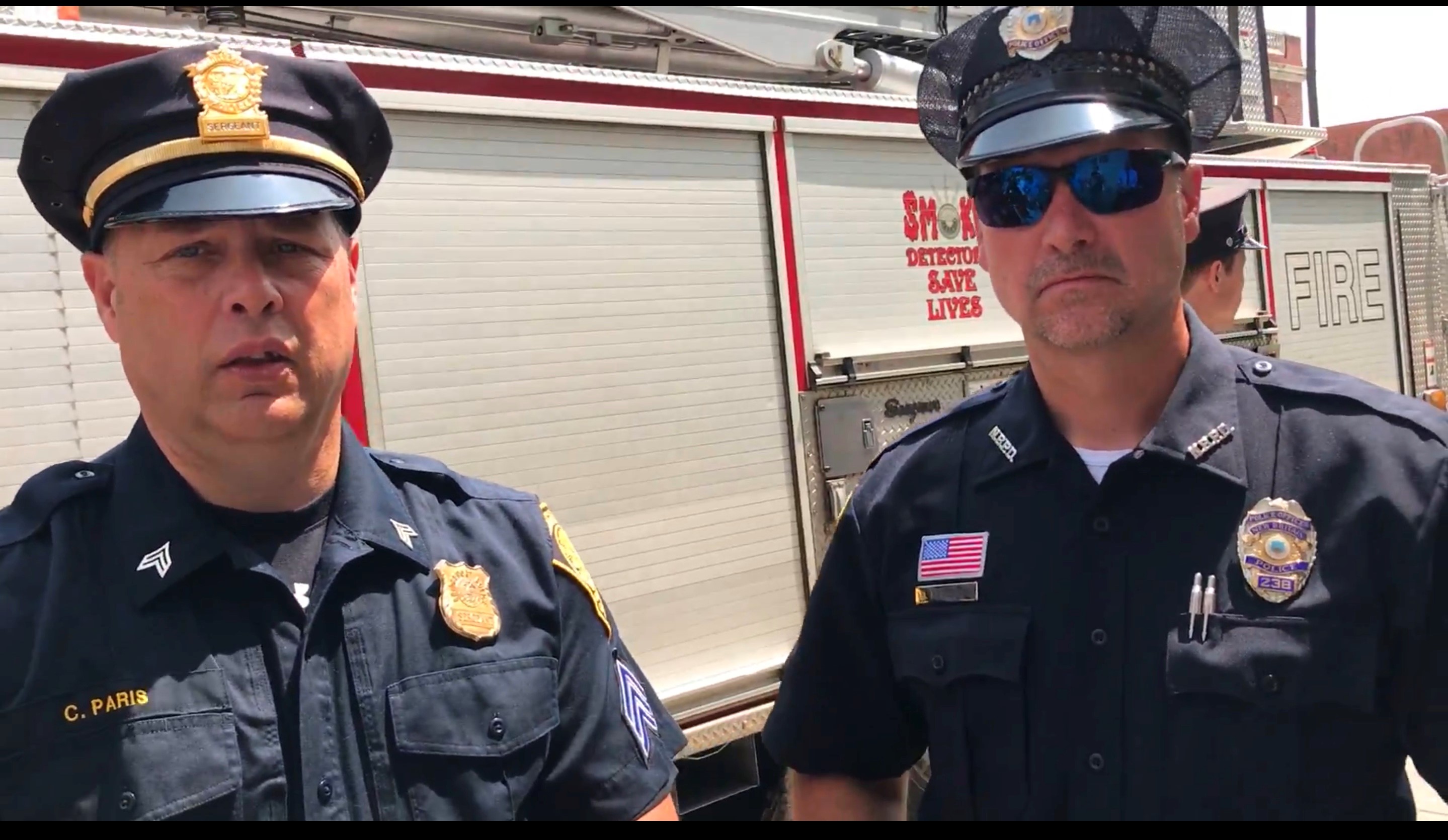 Sgt. Charles Paris (Bridgeport, Connecticut, Police) and Patrolman Blain Rogozinski (New Britain, Connecticut, Police) have witnessed the psychological and emotional toll that is too often the by-product of working in law enforcement.
"We've lost two officers in the last two years who committed suicide," said Paris, president of AFSCME Local 1159.
"Nobody should go through what we see on a daily basis," said Rogozinski, the president of AFSCME Local 1165.
Help is finally on the way, thanks to the enactment of landmark legislation supported by Council 4 and other unions representing law enforcement and public safety workers.
Paris and Rogozinski were among the rank-and-file union leaders on hand when Connecticut Gov. Ned Lamont signed Public Act 19-17 into law this month. The bill will provide post-traumatic stress disorder (PTSD) coverage for police officers, fire fighters and parole officers.
"We need to recognize that the brain is part of the body and can be injured. This bill is a big first step toward dealing with that issue," Rogozinski said.
State Sen. Catherine Osten, co-chair of the Senate Labor Committee and a retired correctional supervisor, helped lead the fight for the bill. She worked with union leaders, municipal officials and fellow state legislators to pass the bill with remarkable bipartisan support. (The underlying law, SB 164, cleared the Senate and House 35-0 and 148-0, respectively).
"PTSD is a real issue and we need real help for people who take their time to run into situations that all of us run away from," Osten said, noting that more than 20 of her colleagues have taken their lives since she left the state Department of Correction. "This [bill] is life-saving. This is family-saving."
The new law allows up to one year of wage replacement and medical benefits to be paid to police, volunteer or full-time firefighters, and parole officers who are diagnosed with PTSD and who experienced one of six qualifying events:
Witnessing the death of a person;
Witnessing an injury that causes the death of a person shortly thereafter;
Treating an injured person who dies shortly thereafter;
Carrying an injured person who dies shortly thereafter;
Viewing a deceased minor;
Witnessing an incident that causes a person to lose a body part, to suffer a loss of body function, or that results in permanent disfigurement.
The PTSD coverage law is welcome news for the approximately 36,000 firefighters, police officers and parole officers who are potentially eligible to claim this benefit. The law also requires the Labor and Public Employees Committee to study the cost and impact of adding other public safety and law enforcement personnel to the list of covered employees.
"PTSD treatment saves lives," Council 4 Executive Director and IVP Jody Barr said. "Extending coverage to correction officers, emergency dispatchers and juvenile detention officers will be a key priority for our union heading into next year's legislative session."
Enactment of the PTSD law is a significant achievement that's been more than 25 years in the making – ever since Connecticut's big insurance and big business lobbies bankrolled the destruction of workers' compensation benefits, including ending treatment for mental and emotional injuries suffered by first responders and other workers.
For officers and union advocates like Paris, the new law will honor the legacy of those who have struggled with PTSD but had nowhere to turn.
"This bill might have saved the lives of our officers," Paris reflected. "We don't typically go and ask for help. Now there's an avenue for us to seek that help."