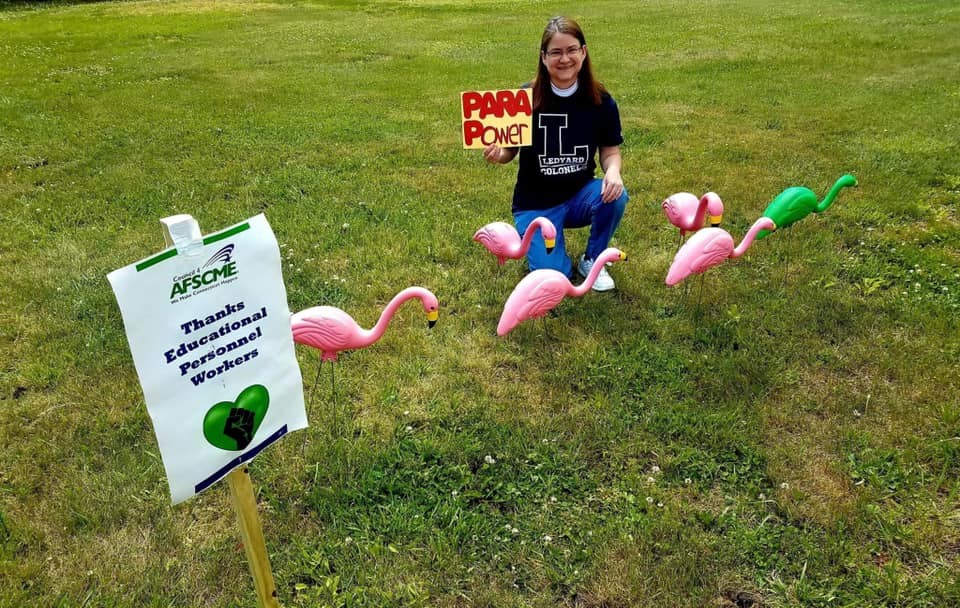 Paraprofessionals in a Connecticut school district have not let the COVID-19 crisis prevent them from gaining a voice on the job.
Ledyard Public Schools' paraprofessionals voted decisively to join AFSCME Council 4, which represents 30,000 workers across the state. The Connecticut State Board of Labor Relations certified the election results in mid-June, with an overwhelming majority of workers voting to unionize.
The new bargaining unit is made up of 130 paraprofessionals who primarily work with students with special needs but also assist school librarians, guidance counselors and teachers across five Ledyard public schools. The vast majority of them are women.
Due to the coronavirus pandemic, the election marked the first for Council 4 that was conducted entirely through mail-in ballots. It was an overwhelming success.
"I have goosebumps," said Denise Dittrich, a Gallup Hill School special education paraprofessional. "I am so excited that we, as Ledyard paraprofessionals, can feel like part of a team instead of feeling separated. It is not one school that did this – it is a whole group of people. Everybody worked together."
Elizabeth Malone, a special education paraprofessional who is currently with Gales Ferry School, said, "I never thought it would happen, and it happened. It was everyone helping each other out. We are all so proud."
Ledyard paraprofessionals began organizing for a union in January. When the COVID-19 pandemic hit and schools closed, they communicated via digital means and continued encouraging colleagues to sign cards indicating support for collective bargaining rights. Once the unit collected enough cards required by the state to file a union petition, they got creative to keep people involved.
"We had weekly Zoom meetings to build camaraderie with all the paraprofessionals from grades pre-K to high school," explained Kimberly Hope, a special education paraprofessional at Juliet Long School. "We also organized a food drive to benefit Ledyard families."
Paraprofessionals also "flocked" each other's yards with flamingos painted in the AFSCME color green as a symbol of unity and solidarity. In addition, two automobile parades were arranged from the high school to the local post office so the paraprofessionals could mail their ballots together.
"We are thrilled to welcome Ledyard school paraprofessionals into our AFSCME union family," said Jody Barr, Council 4's executive director and an AFSCME vice president. "They are standing for a real voice on the job at a time when the COVID-19 pandemic threatens vital public services that keep our communities strong."
According to Council 4 Organizing Director Kelly Martinez, this particular campaign was a reflection of the Ledyard paraprofessionals' determination and dedication. 
When the 2020-21 school year begins later this summer, they expect to find a changed school environment, not just due to challenges presented by COVID-19, but because they have emerged as a more cohesive group who believe in their worth.
"As paraprofessionals, we are a vital entity in cultivating students' growth and learning," said Hope. "We all recognized the need to be supported for the type of impact we have on all the students daily. Now we have a voice to express our needs and a way to gain support for a more unified partnership within the school system to better the students' educational learning and development. We are eager to move forward onto the next steps."