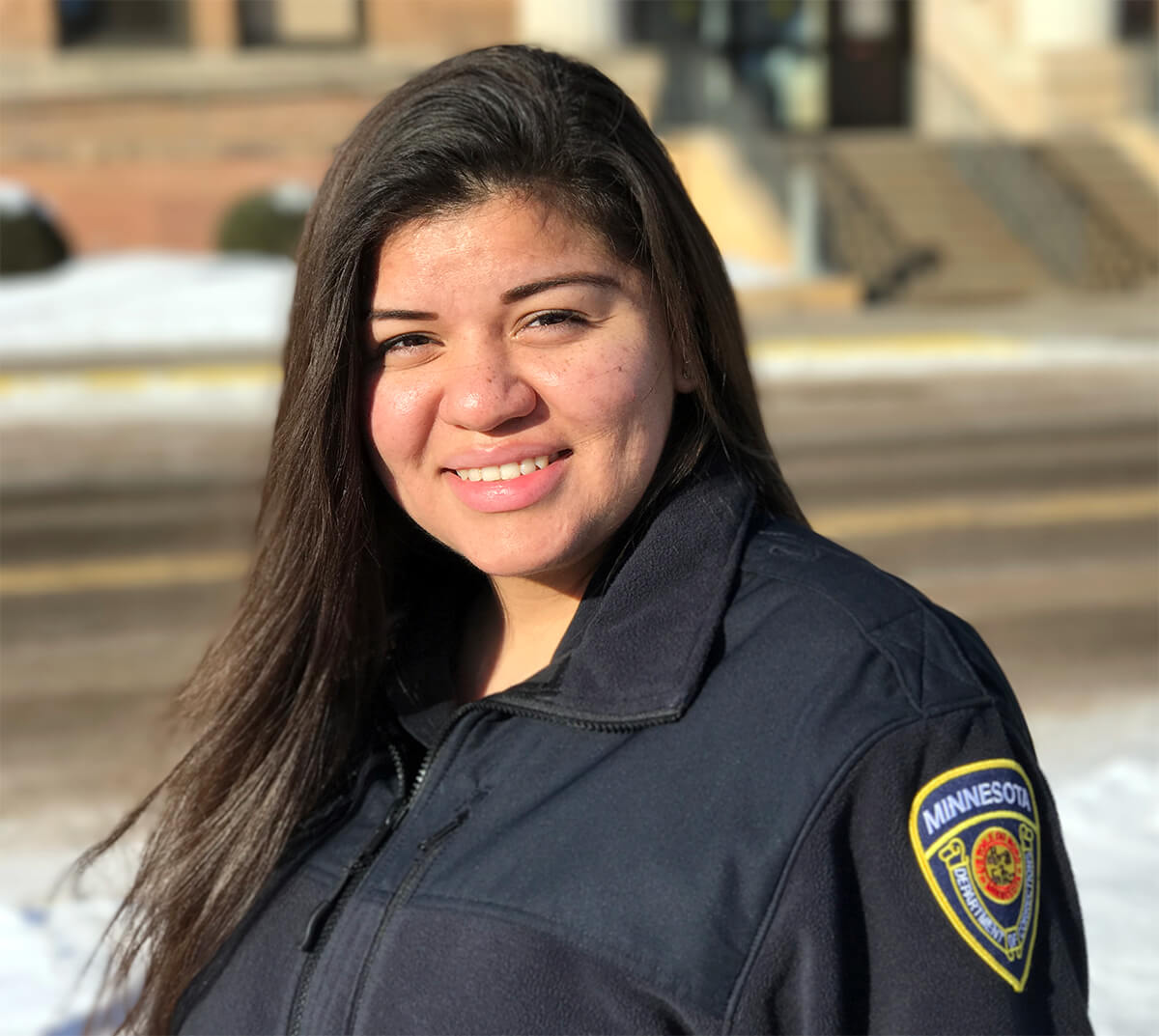 People debating about immigrants and the Deferred Action for Childhood Arrivals (DACA) program may not be aware that fellow AFSCME members fall into this group. They work alongside us, keeping our co-workers and our communities safe.
Maria Olanda Aguilera is a prime example of a "Dreamer." She's a Stillwater, Minnesota, correctional officer and member of AFSCME Local 600 (Council 5).
Olanda Aguilera came to the U.S. from Mexico with her mom and some family members when she was 20 months old. She grew up in the Twin Cities. She's only returned to Mexico once, when her mom went back to get a permit to work legally in the U.S.
"Growing up here, it was good," says Olanda Aguilera, now 27. "I always knew I was here illegally and that always bothered me, but I took advantage of a lot of the culture, I embraced it as my own. I'm going to have the hardest time of all my family if we end up going back."
"This is my home," she adds. "I don't know anything but this country. I would fight for this country – I would fight for this country before I fought for Mexico."
State of Uncertainty
Olanda Aguilera and nearly 800,000 people like her are living in a state of uncertainty. They don't know if they'll be deported, or get to stay in the nation where they grew up.
Last September, the Trump administration announced it was canceling the Obama-era DACA program. DACA allowed people who were brought to this country illegally as kids by their parents to stay and get work permits; it did not set up a path to citizenship.
Without congressional intervention, these young people will lose their DACA authorization and could be deported beginning as early as March 5, depending on when their visas expire. So far, congressional Republicans have blocked any action on DACA.
For DACA participants like Olanda Aguilera, the waiting and uncertainty are tough. She got a passport for her 7-year-old daughter, an American citizen, just in case they have to leave.
"I'm sad and just scared, scared for what's to come," Olanda Aguilera says. "A lot of us have kids, have significant others, have workplaces to go to. I feel like we really do impact America with what we do."
Before she came to the Department of Corrections, Olanda Aguilera worked in several jobs including loss prevention at Macy's. She estimates about 80 percent of the shoplifters she saw were kids. That's when she knew she wanted to make her career in criminal justice: She wanted to provide help to kids who weren't getting it.
Dreams Made Possible by DACA
DACA opened the door to that dream.
"It was literally one of the happiest days of my life when it was announced," she recalls. "I felt this is my opportunity to actually be an American. I didn't have a license. I lived with my parents. I couldn't get my own place."
DACA status helped her build her credit, get an apartment for her and her daughter, and finally apply at the Minnesota Department of Corrections. She started attending college to study criminal justice.
Her desire to give to the nation she calls home doesn't end there. Olanda Aguilera has volunteered at her daughter's Girl Scout troop and school, helping out with field trips, book fairs and picture day. She's made meals for teachers during school conferences.
But that life could disappear if Congress doesn't either save DACA or create a path to citizenship for young people. Olanda Aguilera expects Immigration and Customs Enforcement to come knocking on her door the date her DACA status expires in March 2019 to send her back to Mexico, a country she doesn't know.
'Don't send me back'
If she must leave, she'll take her daughter with her. She tries to keep the 7-year-old aware of what's going on. The morning after the election, her daughter woke up and asked who had won. When Olanda Aguilera told her daughter it was Trump, the little girl started crying.
When the Trump administration canceled DACA, Olanda Aguilera had another hard conversation with her little girl.
"She cried and asked, 'Are we going to have to go to Mexico? I don't want to go,'" Olanda Aguilera said. "I told her there is a very strong possibility we may have to leave, and you will have to be OK with it."
Olanda Aguilera does her best to stay strong for her daughter. But inside, she's thinking, "I want to be American. I don't want to go back. Don't send me back."