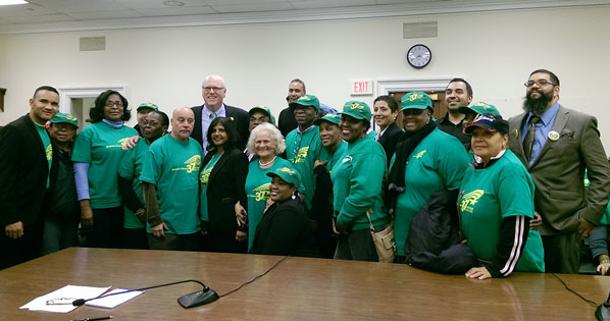 AFSCME members from District Council 37 in New York descended on Capitol Hill last week to advocate for federal support for Puerto Rico, standing with their sisters and brothers on the island whose earned pension benefits are at stake.
In a sign of its continuing fiscal crisis, Puerto Rico last week struggled to make a $355 million bond payment to investors. Public-sector workers in the Commonwealth have already made many sacrifices for the general welfare, and the burden of rescuing Puerto Rico from its fiscal crisis should no longer fall squarely on their shoulders. Through their union, Servidores Públicos Unidos / AFSCME Council 95, public-sector workers are opposing further austerity measures.
During talks with congressional leaders, AFSCME members cautioned that any bankruptcy authorization covering Puerto Rico and its municipalities must protect workers' pensions. Also, congressional reforms should promote expanded federal investments in Puerto Rico, including increased Medicaid spending and the application of the Earned Income Tax Credit (EITC) and Child Tax Credit (CTC).
DC 37 members were part of a larger coalition that included The Hispanic Federation, United Auto Workers, and Service Employees International Union. DC 37 and other coalition members were able to reach more than 14 congressional offices with a succinct message in support of the Obama administration's assistance plan, which among other things would create a new territorial bankruptcy regime and impose new fiscal oversight on Puerto Rico.
In highlighting AFSCME's support for public assistance at a press conference, DC 37 Exec. Dir. Henry Garrido joined Sens. Charles Schumer (D-N.Y.) and Richard Blumenthal (D-Conn.), as well as Reps. Jose Serrano (D-N.Y.), Nydia Velazquez (D-N.Y.) and others.