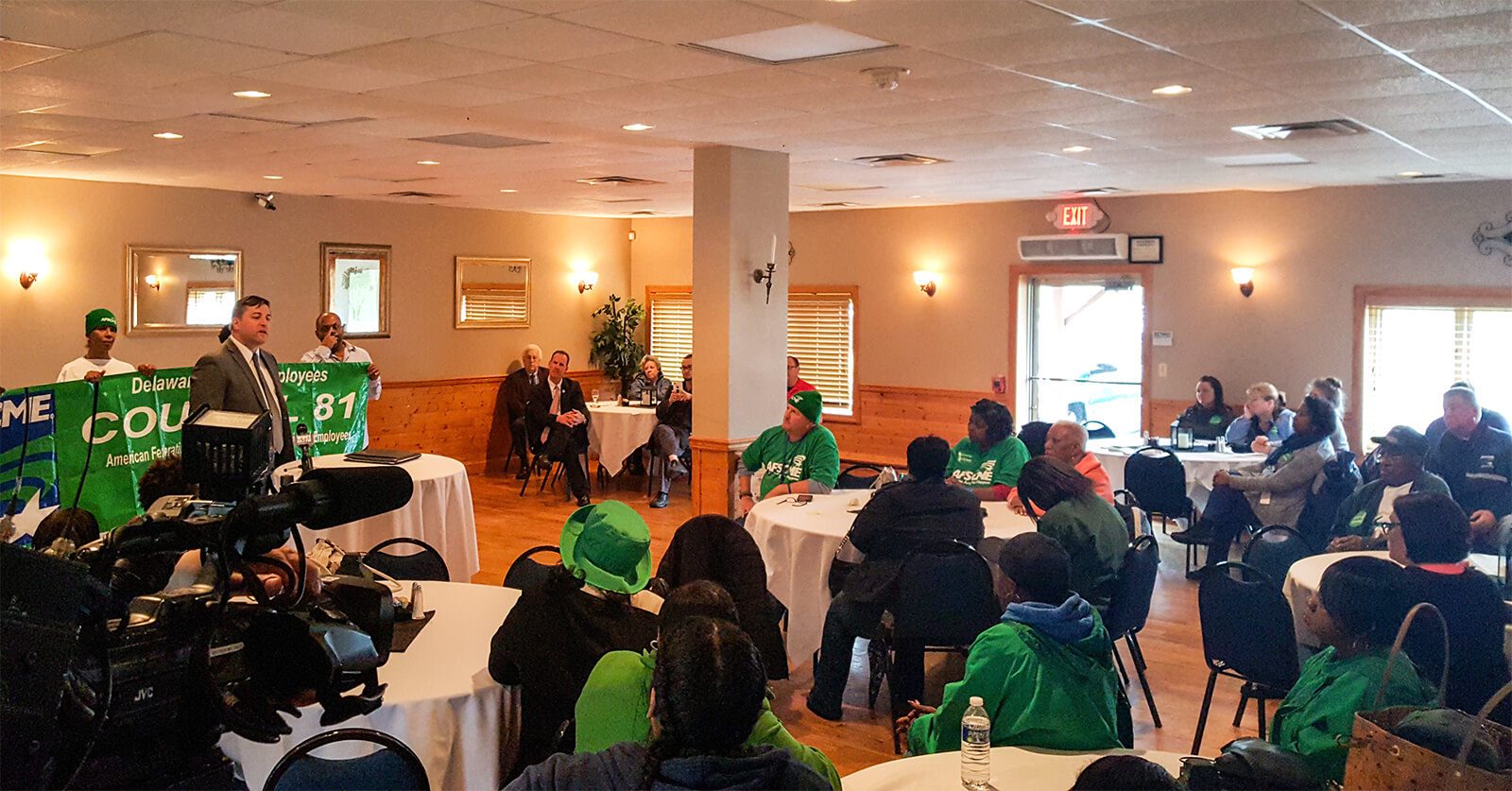 Enough is enough.
That's the message from Delaware public service employees who oppose Gov. John C. Carney Jr.'s calls for "shared sacrifice" in his first budget address.
Dozens of state, county and municipal employees took their message to the governor and state legislature at a noon rally on Tuesday, April 25. With a rising number of state employees becoming eligible for government assistance, workers represented by AFSCME Council 81 hoped to demonstrate that they have truly sacrificed enough.
"Delaware never sleeps. Roads need to be maintained. Communities need to be kept safe," said Mike Begatto, Council 81's executive director. "State workers go to work every day to lift up our state. They do so not to get rich, but because of a deep commitment to their communities. While they never quit working to build our communities, the governor and state legislature fail to show them the respect they deserve."
State workers provide vital services to the neediest and most vulnerable in Delaware communities as part of a personal calling to public service.
"I didn't grow up in the best home," said Tim Dennison, a senior family service specialist at the state Department of Services of Children, Youth and their Families, whose job it is to place children in permanent, safe living situations. "I help kids, who may have gone through what I went through, to gain a sense of belonging. Every kid deserves a loving family – I make sure that happens."
As a certified nursing assistant at the Delaware Psychiatric Center working with patients out of correctional facilities, Christine Kirklin discussed her passion and the problems of short staffing.
"I want them to be successful and thrive in the community when they get out," Kirklin said. But, she added, "with the budget deficit, cost of living and medical costs going up, and people retiring, it is harder and harder for workers to get by, while working longer hours with less resources."
Tim Harmon, laundry attendant with the Delaware Hospital for the Chronically Ill, said state employees have already sacrificed a lot.
"We have gone years with the budget being balanced on our back and we continue to work in a department that is outdated. No one who works for the state full time, helping their communities, deserves to rely on state assistance to make ends meet," he said.
As the state moves forward with its budget consideration, workers say it's important that the governor and state legislature remember the "enough is enough" message.
"State workers never quit providing the vital services that keep our state moving forward. One –let alone over 3,000 workers – eligible for state assistance is too many," Begatto said.