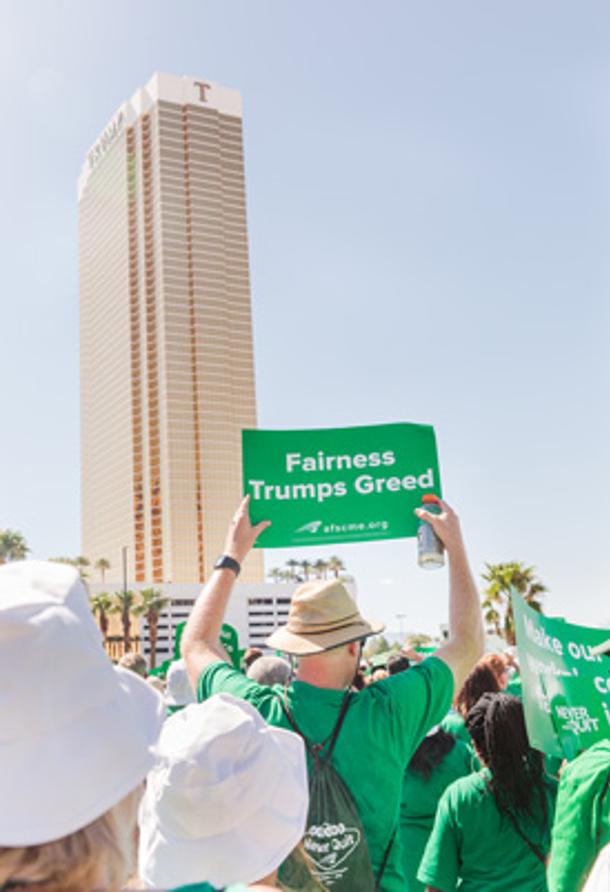 More than 2,000 AFSCME delegates took it to the streets Wednesday, standing in solidarity with Culinary Workers demanding a fair contract at the Trump International Hotel.
Local 226 and Bartenders Local 165 members who work at the Trump International Hotel won their union elections last December, and the National Labor Relations Board certified their victory in March. Yet Trump International has refused to begin contract negotiations and has conducted an aggressive anti-union campaign, including firings and intimidation of union supporters.
Though several members experienced discomfort from the excessive heat, AFSCME delegates demonstrated that we won't stop fighting for all workers' rights – whether ours or our sisters and brothers from other unions.
"I'm so happy to see you guys," said Geoconda Arguello Kline, who started out as a hotel worker and is the secretary-treasurer of Local 226.
Kline said of Trump "He doesn't respect working people...who make him money every single day. These workers here, they had an election. They won. We're going to fight and we're never going to give up. He's been refusing and denying the rights of the working people… Mr. Trump, you're fighting against the immigrants... you're fighting against this country. And right now, the country will fight against you too."
IVP Kathryn Lybarger pledged AFSCME's support. "It's the heat we're turning up on Donald Trump. AFSCME is proud to stand in solidarity with you," she said. "As long as Trump continues to undermine basic fairness for working people, the 1.6 million members of AFSCME stand with the Culinary Union to urge Trump to treat his employees with respect and negotiate a fair contract."