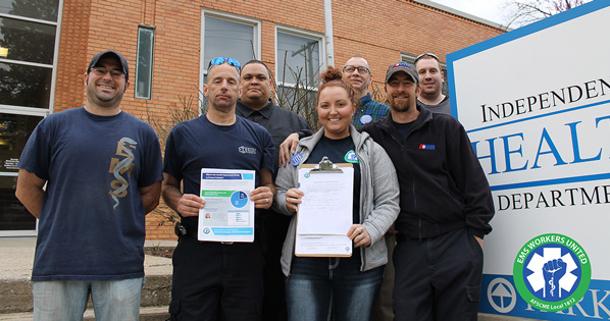 INDEPENDENCE, Mo. — Paramedics, Emergency Medical Technicians (EMTs) and dispatchers have filed an unfair labor practice (ULP) charge against American Medical Response, and are calling on the company to stop misleading the public when it comes to the employee retention problem.
Company rosters indicate the turnover rate was 23 percent in 2015, but the company spokesman tells a different story when questioned by the media. Workers want to know why the city health director has not stepped in.
"We spend a lot of time training new employees only to see them vanish a year later. It's become such a problem that now we have new EMTs training new EMTs," said Andrew Kahananui, an EMT and field training officer who has seen firsthand the impact of high turnover in his 12 years with AMR. "Daily late calls and fatigue cause a lot of burnout."
As industry reports indicate, this can be problematic for workers and their patients.
High turnover can hurt patient care, so workers are talking with Independence officials about the need to provide basic oversight of the city's private provider of emergency medical services.
"Experience matters. We know that having experienced professionals respond to your emergency can knock off as much as four minutes from the time you call 911 to the time you arrive at the hospital," said Robert Mills, a part-time EMT and National Guardsman. "That can mean the difference between life and death. I don't know why the city is not concerned that we have a 23 percent turnover rate at AMR."
Emergency Medical Service professionals say that transparency and oversight would be a big step forward. They are urging the city's health director to exercise his authority outlined in the city code and require AMR to measure and report employee satisfaction and retention.