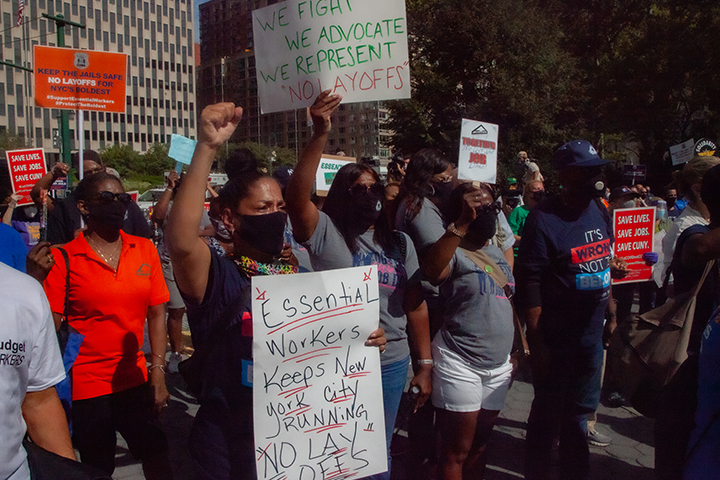 Hard-hit New York City may have to lay off 22,000 public service employees due to budget shortfalls stemming from the COVID-19 pandemic. Many of these workers have been on the front lines of combating this pandemic, delivering key services to the city and ensuring the safety and security of our communities.
During a live stream meeting with workers about the potential layoffs, AFSCME District Council 37 Executive Director Henry Garrido explained the union's three-point proposal to city and state leadership to address the budget shortfall.
"We are speaking with leaders in Albany and the city to keep these layoffs from happening," Garrido said. "We are asking the state to create an early retirement incentive, to authorize borrowing for the City of New York, and to pass a package of revenue bills including a millionaires and ultra-millionaires' tax to generate desperately needed revenue. We believe these measures would address the budget shortfall and prevent the harmful layoffs."
DC 37 members also gathered earlier this month for a rally as part of a campaign to prevent these layoffs. Hundreds of workers gathered for the socially distanced rally to show leadership that laying them off would harm not only workers but the city itself – reducing delivery of essential services such as garbage collection, water sanitation and treatment, 911 operations and more.
In a member-focused public awareness campaign launched last week, DC 37 members shine a spotlight on their commitment to their work for the city. These essential workers have been on the front lines nonstop to keep the city running throughout the pandemic.
New York City public service employees are not the only ones facing layoffs.
Cities and states across the country are experiencing dire budget circumstances that will cripple public services. Without substantial state and local aid from Congress to provide relief and keep our front-line essential workers on the job, communities will suffer as more layoffs occur and vital services are reduced.