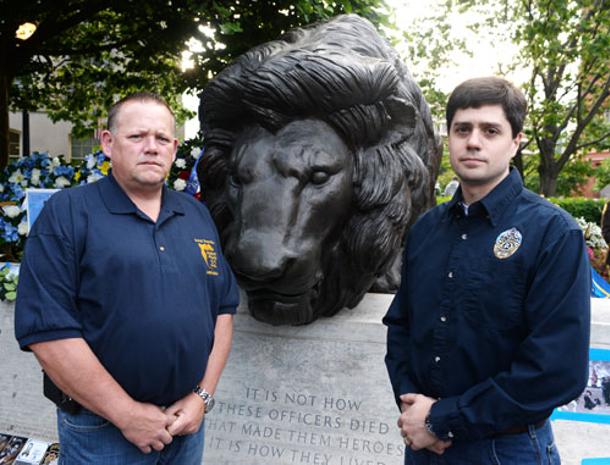 WASHINGTON, D.C. — Law enforcement officers from around the country came together in our nation's capital this week to honor those who fell in the line of duty in 2014.
Among those whose names were added to the National Law Enforcement Officers Memorial this year were three AFSCME members: Alaska State Trooper Gabriel "Gabe" Rich, Alaska State Sgt. Patrick "Scott" Johnson, and Albany, N.Y., Police Det. Douglas H. Mayville.
A candlelight vigil at the memorial was part of National Police Week, which draws as many as 40,000 attendees from around the United States to activities that honor law enforcement officers' service and cultivate a spirit of brotherhood and sisterhood among them.
The memorial, located in the 400 block of E Street NW, saw the addition this year of 273 names of law enforcement officers killed last year. These join the more than 20,000 names on the memorial walls of officers killed serving their communities, dating back to 1791.
Jim Lyman, executive director of AFSCME Council 82 and a retired police detective from Albany, remembered Doug Mayville as a "stoic figure, with a hard shell and a soft inside, as long as you were able to get through that shell; a cop's cop."
Lyman said he worked with Mayville for 10 years and has been to National Police Week many times. It gets "harder and harder," he said, every time he's back.
Mayville died April 9, 2014, after a 26-year career. He suffered from Wegener's granulomatosis, which was caused by long-term exposure to harmful chemicals in the department's forensics lab. He was a member of AFSCME Local 2841, Council 82.
Sgt. Aaron Danielson of the Fairbanks International Airport Police and Fire Department, remembered Scott Johnson as "the trooper we all aspired to be."
"He worked in the drug unit, he was a statewide K-9 instructor, he was part of the Special Emergency Response Team, he was just the best trooper around," said Danielson, who is president of the Public Safety Employees Association/AFSCME Local 803.
This is the second year in a row that Alaska state troopers mourn one of their own during National Police Week. Last year, it was Tage B. Toll, an AFSCME member killed in a helicopter crash on March 30, 2013, after the successful rescue of a stranded snowmobiler.
"It's tough," Danielson said. "But we're a really close unit. We all came out in support of the troopers and their families, and the community came out, too. People started bringing in food for the troopers because they knew what they were going through."
Gabe Rich, who was just 26 when he was killed, and Scott Johnson, were shot to death May 1, 2014, in the remote village of Tanana, 130 miles west of Fairbanks. They'd gone to arrest a local resident after a disturbance when the man's son opened fire on them with a semiautomatic rifle. The older suspect has since been found guilty of evidence tampering, while his son awaits trial on murder charges.
AFSCME is a partner of the Memorial Fund. To donate, go to nleomf.org/AFSCME.