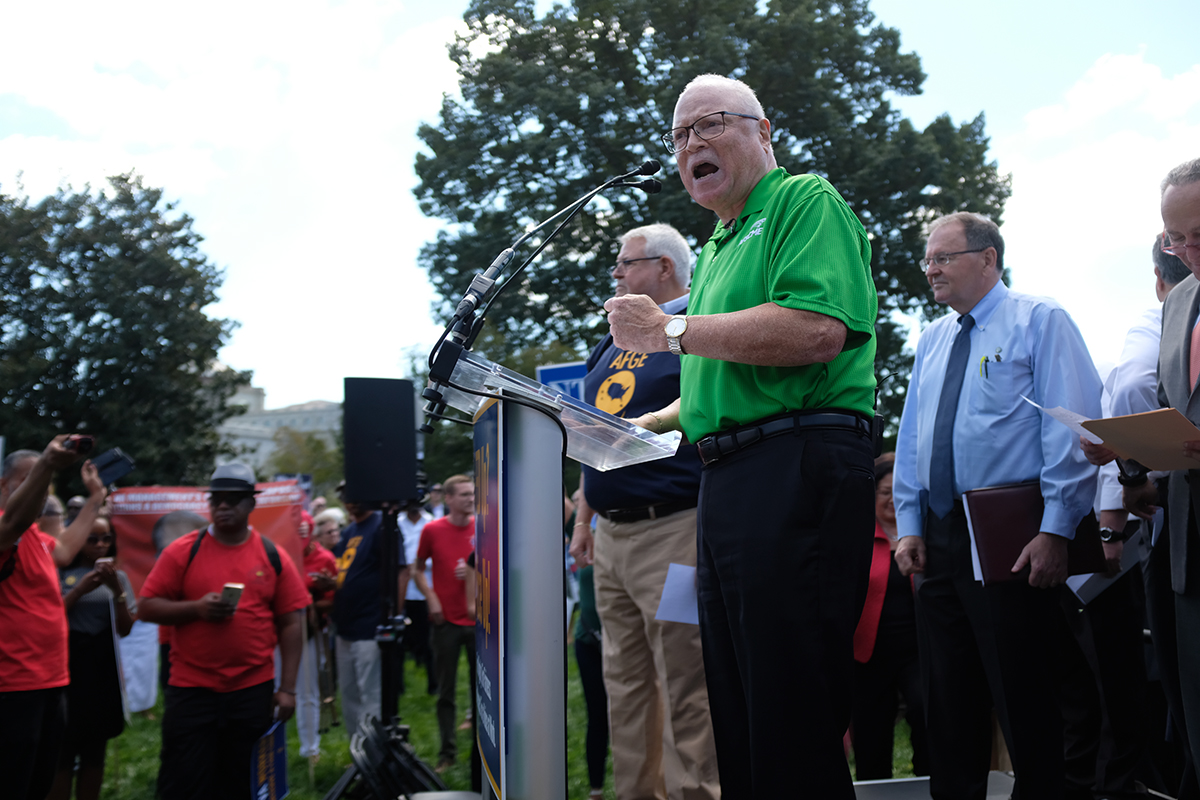 AFSCME members joined their sisters and brothers from AFGE at a rally today to speak out against attacks on their jobs, their ability to join in strong unions and on their dignity. The "Fed Up? Rise Up!" rally was a day of action centered on fighting to preserve strong public services and supporting the skilled federal workers, many of them AFSCME members, who provide them.
In 2016, the White House claimed it wanted to "drain the swamp," but what it's actually doing is dismantling vital government agencies and the essential services they provide, while disrespecting the professionals who've dedicated their careers to helping those agencies achieve their goals. The administration has also tried to silence those workers when they've voiced outrage at the attacks they've faced.
Whether it's cutting the budget of the Environmental Protection Agency and making it harder for its workers to keep our air and water clean; stripping away Department of Veterans Affairs workplace rights and outsourcing their health care; or making it harder to join a union, remain a union member and bargain collectively, the many attacks the Trump administration has leveled against public service workers is evidence of its disdain for the work public employees provide. The effort to silence National Oceanic and Atmospheric Administration scientists who countered the president's erroneous claims about Hurricane Dorian is only the most recent example.
AFSCME President Lee Saunders joined other union leaders and speakers at the rally to condemn the attacks on federal workers.
"What this administration is doing is part of a sustained attack on our rights and freedoms," said Saunders in prepared remarks. "It is a ruthless and relentless attack on the ability of all working people to come together, to build power together in a strong union, to negotiate together for a fair return on our work."
Earlier this year, AFSCME members stood alongside AFGE members calling for an end to what proved to be the longest government shutdown in American history. Then, as now, workers are demanding the administration stop its attacks against them and show respect for the professionalism, training and skill they bring to their jobs every day.
"The expertise of our federal workforce is the envy of the world, but the folks running the executive branch aren't interested in expertise. They're interested in advancing an agenda that rigs the economy in favor of billionaires and CEOs. They're interested in tearing down all the pillars that give our system its strength and integrity," said Saunders.
Like AFSCME members, AFGE members choose public service because they put their country and their communities first. Undermining their ability to stand together in strong unions and serve their communities to the best of their ability isn't about making government more efficient. It's about making government less effective.