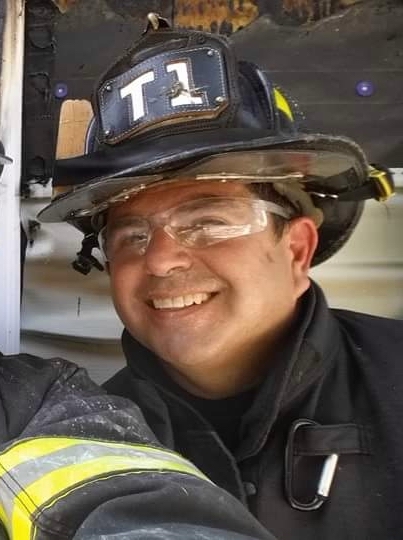 Some people work from home while others must report to their workplaces. But for a few others, their workplaces become like second homes.
That is the case at the firehouse of the Francis S. Gabreski Airport, a joint civil-military airport in Suffolk County, New York, where firefighters often work in 24-hour shifts. They are a mix of civilian and military service personnel, and they treat each other like family.
People working in a firehouse share a special bond because of the time they spend together and the experiences they share, says Zachery Sodon, an airport firefighter at Gabreski. But he feels especially privileged to work alongside a colleague who he says goes above and beyond for his community and has been like a big brother to him for the past five years.
"Oscar Cerda is truly one of a kind," says Sodon, who nominated Cerda for AFSCME's Never Quit Service Award. "The amount of service and attention to detail and selfless actions he demonstrates every single day to himself and everyone around him is unmatched."
Sodon, who is in the early stages of his career, says he has relied on Cerda's experience to learn valuable things that have made him a better firefighter.
"Oscar has mentored me and taught me a lot," he says. "He was able to take my level of knowledge and expand it to a whole other level."
Part of being a great firefighter, Sodon says, is looking out for and taking care of those around you.
"Oscar sets an example that most of us should strive to follow and learn from," he says.
For his service to his Long Island community, Cerda, a member of the Civil Service Employees Association/AFSCME Local 1000, is a winner of our union's Never Quit Service Award, which seeks to recognize public service workers who go above and beyond the call of duty to make their communities better.
Cerda not only goes above and beyond for his co-workers. When he's not at the Gabreski firehouse, he's serving as a volunteer firefighter with the local fire department.
"I think a lot of it has to do with my upbringing, with the values my parents taught me," Cerda says, when asked what's behind his work ethic. "They were raised in farming families, so everybody always worked. Everybody had to make an effort to help the family. My parents taught me to work hard and strive to achieve, but also to be there to help. That was probably my biggest influence growing up."
Cerda's parents are from Chile, the country where Cerda was born. They immigrated when Cerda was 5 years old and lived in New York and South Carolina. Cerda recalls learning English from watching television before he was able to go to school.
He became a volunteer firefighter at 17 before joining the U.S. Air Force, where he spent more than five years in active duty. Recently he took his first vacation in 2 ½ years – a long weekend down to Florida.
"As firefighters, we encounter people when they're often having the worst day of their lives," Cerda says. "And so we do everything we can to try to help as much as we can, to give comfort and safety, to give aid when they need it."
It's a tough job, especially dealing with traumatic incidents and experiencing death up close.
But Cerda is proud to serve his community and be there for his co-workers, whom he calls "a second family."
"I like helping people," he says. "It's not a monetary thing. Firemen are never millionaires. But it's the satisfaction of being able to assist someone and help them out through the toughest time of their lives. Sometimes you can see it in their faces, the gratitude they have for you."