Friday the 13th Redefined for Union Plus American Dream Sweepstakes Winner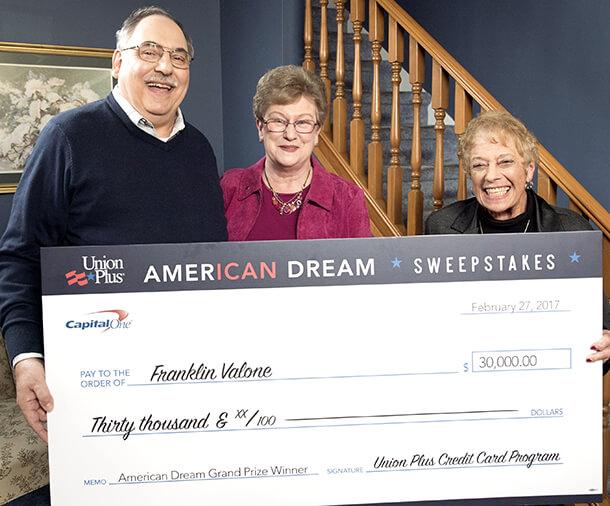 Frank Valone was in shock. The retired Civil Service Employees Association/American Federation of State, County and Municipal Employees (CSEA/AFSCME) member arrived home from a week in the hospital, having been diagnosed with lymphoma. It was Friday, January 13, and he was pondering the fight of his life when he received a call.
"It was Union Plus calling, wondering if I'd checked my email," he said. "They waited while I did, and when I read I had won, the worst week of my life suddenly took a turn for the good. I felt hopeful, and I was so grateful. I'll never think of Friday the 13th the same way again."
Valone's $30,000 grand prize marked the end of the American Dream Sweepstakes sponsored by the Union Plus Credit Card Program, which celebrated three decades of the Union Plus member benefits program.
Prior to his retirement in 2002, Valone was a 15-year senior plant utilities engineer at the Roswell Park Cancer Center. Founded in 1898 and headquartered in Buffalo, New York, the Center is America's first facility dedicated to cancer research. Valone savored his role because his team served as the Center's catalyst, making sure it received the power it needed to operate 24 hours a day.
"The union was a true fraternity," he said. "They negotiated contracts and provided benefits that I feel were well earned and deserved. We worked hard, giving the facility what it needed to succeed, and the union worked hard for us."
Valone entered the sweepstakes because it gave him a chance to dream, but he never imagined winning.
"It's been tremendous," he said. "My wife and I want to use this money to travel more – maybe to Maine or to Pennsylvania to ride steam trains, but it's also great to know that while I have good insurance, this money could come in handy with my healthcare expenses."
Valone's story caps the Union Plus 30th Anniversary American Dream Sweepstakes. To read the stories of all the winners, visit UnionPlus.org/Winners.
To learn more about all of the Union Plus programs available to union members, including the Union Plus Credit Card, wireless discounts and savings on travel and entertainment, visit UnionPlus.org.
(Credit approval required. Terms and conditions apply. Union Plus Credit Cards are issued by Capital One, N.A. pursuant to a license by Mastercard International Incorporated.
©2017 Union Privilege. All rights reserved. Union Plus benefits are for participating union members, retirees and their families. Union Privilege, 1100 1st ST NE, Suite 850, Washington, D.C. 20002).