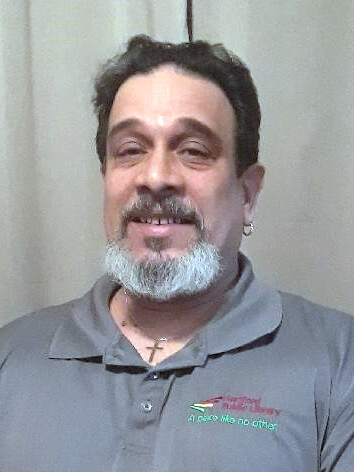 Custodians have long been at the front lines of germ warfare, and their role has become exponentially more important during the coronavirus pandemic.
Leo Laffitte, a custodian for 18 years at the Hartford Public Library, a member of AFSCME Local 1716 and a district vice president for Council 4 (Connecticut), is one of those dedicated germ warriors.
Though public libraries throughout the city are closed, employees are required to come in for two days a week. While some take calls and check in returns, Laffitte and his fellow "maintainers" – the official title of workers who provide janitorial, carpentry and painting services – are on coronavirus patrol. He takes out the garbage, wipes down all the surfaces, cleans the restrooms, mops the floors and does maintenance on all facilities – just as he used to when working a full schedule before coronavirus pandemic forced work cutbacks.  
"We are really taking some vigorous interventions so we can protect us and the community. Since the library is a community hub – I call it the hottest ticket dayside in Hartford – we had a lot of people coming in," Laffitte says. "My boss is definitely taking care of us. He's making sure we have enough gloves, enough bleach wipes, sprays and liquids to do our work."
The library may also provide Laffitte and the rest of the maintenance crew high-tech vaporization machines – which emit clouds of sanitizing vapors – to clean up library property.
A mop, a bucket, antibacterial cleaners and, possibly, vaporization machines – these are Laffitte's weapons of war. And he knows just how to wield them, too, having spent 41 years as a custodian and the last 18 at Hartford Public Library.
Laffitte and custodians like him across the country may get more equipment if the American Library Association gets its way. The group is seeking $79 million from Congress to "deep clean" libraries nationwide so they can be as sanitary as possible before reopening their doors. That funding request is part of the ALA's $1.3 billion proposal for a stimulus package for the nation's libraries.
"We are out there. We are on the front line most definitely. Not everybody is as sanitary as you and I are," he says. "We have to provide those standards of cleanliness. That's us. We have to provide that. When things like these episodes break out, we're on the front lines."