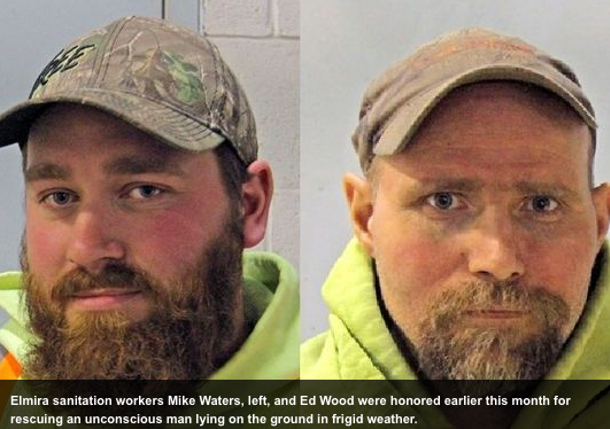 Two sanitation workers from Elmira, New York, Mike Waters and Ed Wood, took time out from their early morning route to save a life.
Joseph Myers, 73, lay unconscious in his driveway for more than five hours in 10-degree weather before the two CSEA Local 808 members pulled up in their garbage trucks on their morning run. Waters noticed Myers lying in the snow under his car, jumped into action and ran over to lend a hand.
While waiting for the emergency personnel to arrive, both heroes took off their coats to try to keep Myers warm, and moved their trucks out of the way to allow for access to the driveway. Once the ambulance arrived, Waters and Wood helped load Myers onto a stretcher where he was taken to a nearby hospital and later released.
In below-freezing temperatures, minutes can be the difference between life and death. "They said if he was out there about another 20 minutes, it wouldn't have been good," Waters told the Star-Gazette.
"CSEA members like brother Waters and Wood go to work to do a job, often overlooked and taken for granted, and they do amazing things to improve the lives of everyone in their communities," said CSEA President Danny Donohue, also International vice president. "Their heroic action saved this man's life, but also serves as a reminder of the commitment and dedication we take to work every day. They went the extra mile and saved a life."