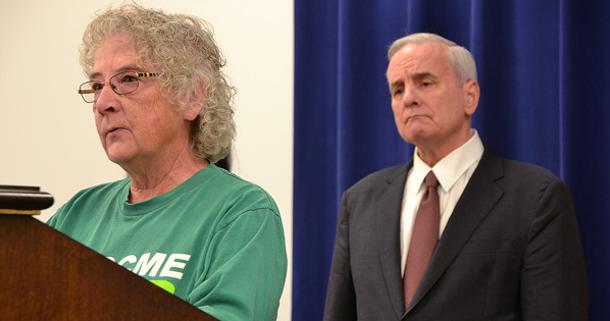 Heeding the cries for help from understaffed and battered nurses and workers at state psychiatric facilities, Minnesota Gov. Mark Dayton called on the Legislature to earmark $177 million to improve patient care and safety.
Flanked by three health care workers represented by AFSCME Council 5, Dayton told a news conference in St. Paul on April 6 that the funding would correct "decades of neglect" in the state's mental health facilities. "It is imperative that the Legislature correct some of these deficiencies this year," he said.
"Violent patients are assaulting staff in record numbers," said Jackie Spanjers, a nurse at the Anoka-Metro Regional Treatment Center and president of AFSCME Local 1307 (Council 5). "We're walking around wounded and feel like punching bags."
Kaija McMillen, a 25-year-old security counselor who volunteered to serve and work with the most dangerous of the mentally ill, now is facing rehabilitation with a career-ending brain injury after being attacked by a patient. "I've lost everything that made me feel independent, like being a good mom," she said through tears in a TV interview. "It's changed my life probably forever."
Council 5 escalated a campaign last year to dramatize the dangers of understaffing in the psychiatric centers. AFSCME has documented hundreds of injuries to workers on Safe Staffing MN, a Facebook community where workers share their stories and unite efforts to improve safety.
As part of the Dayton proposal, approximately 335 full-time staff would be added over the next three years at the Minnesota Security Hospital in St. Peter and 33 new staff at Anoka-Metro Regional Treatment Center. Seven smaller psychiatric hospitals would be funded to operate at full capacity. A legislative auditor concluded last month that many of the state's smaller psychiatric hospitals are operating far below capacity.
Tim Headlee, a security counselor at the St. Peter hospital and president of AFSCME Local 404, says Minnesota is falling behind other states in its treatment of mental health, urging that facilities like Minnesota Security Hospital move away from a "correctional model" to a more therapeutic one.
But Minnesota is not the only state grappling with the issue, and the General Accounting Office (GAO) is expected to release a report this Thursday, April 14, on workplace violence in health care settings. AFSCME-represented hospital and health care workers are calling for a national commitment to legislation and policies that foster safer workplace environments for those who serve critical health care needs in our communities.