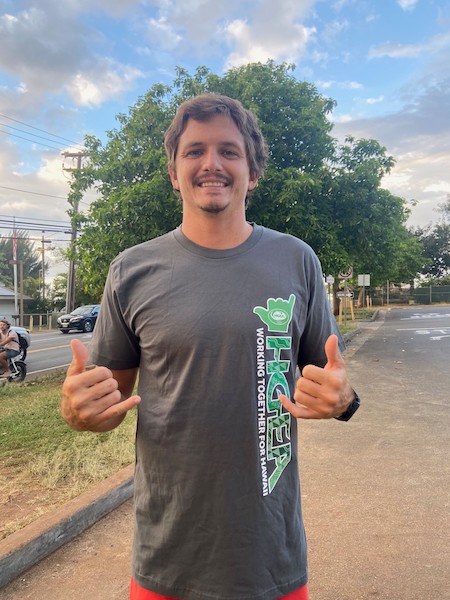 Luke Shepardson had a childhood dream. Born and raised on the North Shore of Oahu, Hawaii, he took up surfing at an early age and dreamed of winning the Eddie Aikau Big Wave Invitational.
The surfing tournament is a big deal in more ways than one. Not only does it bring together the best surfers in the world, but for the competition to be held, open-ocean swells must reach a minimum height of 20 feet, creating waves near the shore that rise to 30-40 feet or more.
Because of this requirement, the competition has been held only 10 times since 1985. In Shepardson's lifetime, it has been held only seven times, the first time in 1999, the year he turned 4.
Shepardson, 28, grew up dreaming that he would one day get to compete. He was invited to participate in 2017, 2018, 2019, 2020, 2021 and 2022, but the tournament didn't materialize because the surf conditions weren't right.
Then in January of this year, for the first time in seven years, it happened. The event's organizers announced that The Eddie, as it is known, would be held Jan. 22, giving participants from all over the world but a few days to make their way to Waimea Bay, Hawaii.
Shepardson couldn't believe it! His moment had finally arrived! There was only one problem: he was scheduled to work that day.
Shepardson is a water safety officer for the City and County of Honolulu and member of the Hawaii Government Employees Association (HGEA/AFSCME Local 152). He immediately called his co-workers who were on vacation to find out if they could come back to fill in for him. But they could not.
So, he tried the next best thing.
"I was able to get three hours of vacation approved for that day, and then I was able to use one hour of vacation for each of my two heats," he says.
Shepardson was going up against the best surfers in the world, including professionals such as John John Florence and Kai Lenny. Beating them would require 100% focus. Yet when he paddled out on his surfboard to catch his first wave, there was something else on his mind: he had to get back to work. The beaches were crowded that day, and he knew he was needed.
The same thing happened after he caught another huge wave during his second heat and rode it all the way down: he kept thinking he had to rush back to his post. But this time he felt something else as well.
"When I got back to the beach after my second heat, I had a feeling that I did really good," Shepardson says. "I had a feeling that maybe I had won."
Shepardson didn't just win first place, he received a near-perfect score.
Ironically, keeping his mind off the competition may have helped his chances.
"I think it was good that my mind was on work because I'm not a good contest surfer," he says. "So then I was just busy working through the day and when it came time for my heat I just went out and had fun."
During the awards ceremony, Shepardson was clad in his lifeguard outfit: red shorts and yellow t-shirt. Every news outlet wanted to know what the moment meant to him.
"I don't know what to say," he told an interviewer. "It's a dream come true. And I got to get back to the tower to finish work … make sure everyone goes home safely and alive to their families."
His victory seemed a fitting tribute to Eddie Aikau, in whose memory the tournament was created. Aikau was a North Shore lifeguard and surfer who died tragically in 1978 after performing one last act of service.
"Eddie Aikau has always been a huge inspiration to me," Shepardson says.
Although he had beaten the best surfers in the world, public service was still his No. 1 priority.
For his service to his community, Shepardson is a winner of AFSCME's Never Quit Service Award, which recognizes public service workers who go above and beyond the call of duty to make their communities better.
"I love being a lifeguard," he says. "I love what I do. It's a very good feeling when you know you helped save someone's life. I'm just glad I can use my skills to help other people."